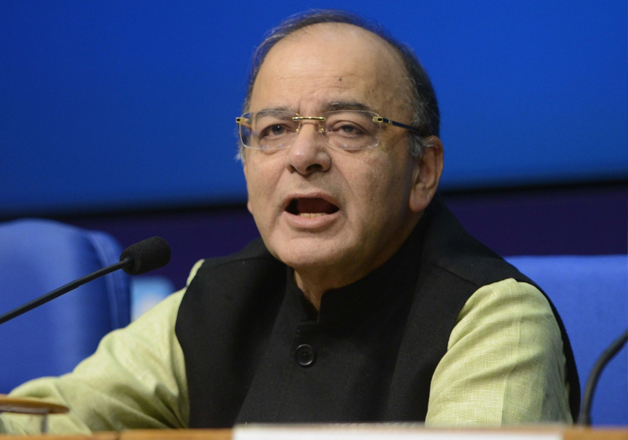 Union Finance Minister Arun Jaitley today rejected the demand of the Chief Ministers of Delhi and West Bengal to scrap the demonetisation decision and said that the ruckus by opposition parties in Parliament was a deliberate attempt to scuttle a constructive debate. 
"There is no question of rolling back the demonetisation move," Jaitley said.
Earlier in the day, Mamata Banerjee and Arvind Kejriwal handed the government a three-day deadline to revoke the decision or face revolt. 
The government on Thursday also rejected the demand for Prime Minister Narendra Modi's response on the debate on demonetisation and accused the opposition of using it as an excuse to scuttle discussion on the issue in Parliament.
"It is the government's prerogative as to who will reply to a debate," Jaitley said.
"I think it is a matter of cold feet that opposition parties are running away from the debate," he added.
Jaitley's reaction comes immediately after I&B Minister Venkaiah Naidu made it clear that the minister concerned or any other person on behalf of the government, as per the rules of the House, will reply.
Dubbing the uproar by Congress and other opposition parties as an excuse to stall a debate, Naidu said, "I feel that those who started the debate are now understanding that it is going negative, that is why they are finding excuse for not allowing the discussion. They are speaking in double tone and in different voices. They are not coming out openly either for or against. They are in dilemma and that dilemma will continue."
The opposition today disrupted proceeding in the Rajya Sabha and Lok Sabha, demanding PM Modi's presence and his response on the matter. They also demanded for a debate on the matter under a rule which entails voting, forcing the adjournment of the Houses.
Further, Jaitley questioned the Congress party's intention on fighting against black money and corruption. 
"Congress as a national party must support it instead of obstructing and then comparing it with Pak terrorism is irresponsible. What is the vested interest of Congress party to oppose this initiative to curb black money and terror funding?" he said.
The Finance Minister also welcomed the Chief Ministers who have welcomed this step and making arrangements to ensure people don't face hardship while depositing, exchanging or withdrawing money from banks. 
"Most CMs have used state apparatus to support this move, I appreciate that. Some CMs however are spreading panic," Jaitley said as he made an appeal to the every citizen to support this initiative.
Praising banks staff for their commendable job, he said, "In seven days banks have brought down the rush, there is no panic. Unfortunate that some people were inconvenienced. I would like to complement the bank employees on their commendable job, they have dealt with crores of rupees in last seven days." 
When asked about bring down the exchange limit from Rs 4,500 to Rs 2,000, he said, "In last few days we received complains, and now we have reduced the figure because we don't want any trouble."
Jaitley mentioned that ATMs are being recalibrated on war effort and soon smooth functioning will be resumed.
Earlier in the day, the government announced a reduction in the one-time exchange limit of Rs 4,500 to Rs 2,000 to stop misuse. Among other measures, it allowed up to Rs 2.5 lakh cash withdrawal from the bank account of a bride or groom or their parents for a marriage till December 31.