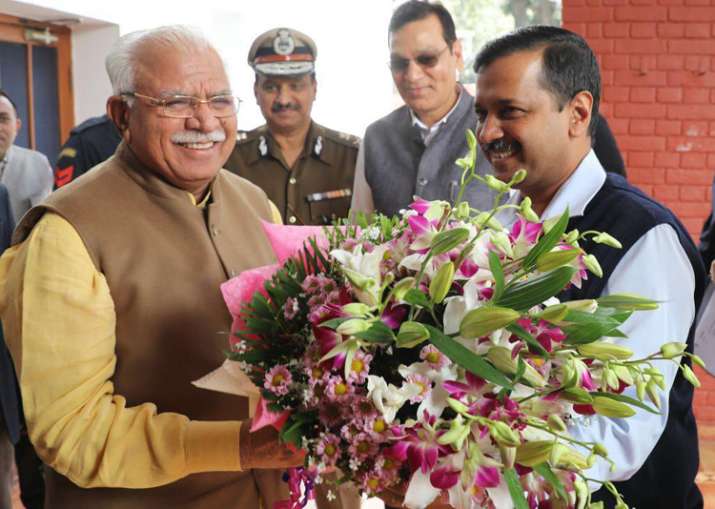 Delhi Chief Minister Arvind Kejriwal on Wednesday faced protests from workers of Shiromani Akali Dal (SAD) and Punjab Congress as he landed at the Chandigarh Airport to meet his Haryana counterpart Manohar Lal Khattar and discuss the issue of stubble burning and air pollution.
Over 200 workers from both the parties were gathered at the airport to protest against the Delhi Chief Minister. 
HERE ARE THE LIVE UPDATES:
#We had a very positive discussion, we will take all steps possible to tackle the situation: Delhi CM Arvind Kejriwal 
#Joint meeting on pollution and stubble burning with Kejriwal and Khattar underway in Chandigarh
#Delhi CM Arvind Kejriwal meets Haryana CM ML Khattar in Chandigarh 
Joint Meeting on Pollution & Stubble Burning with Delhi CM @ArvindKejriwal & Haryana CM @mlkhattar underway.
Stay Tuned ! pic.twitter.com/fAa0FDB8ZC

— AAP (@AamAadmiParty) November 15, 2017
#Kejriwal flew to Chandigarh for his meeting with Khattar even as the air quality in the national capital witnessed a slight improvement.
#Earlier, Kejriwal in a tweet said he along with Delhi Environment Minister Imran Hussain, Environment Department Secretary Keshav Chandra was on their way to the neighbouring state "to discuss issues related to pollution" with Khattar and his team.
#The Aam Aadmi Party (AAP) chief had earlier blamed stubble burning by farmers in Punjab and Haryana for the thick smog that has descended over Delhi. Besides Delhi-NCR, several cities in northern India are reeling under severe air pollution for over a week. 
#The Delhi Chief Minister had written to his counterparts in Punjab and Haryana requesting for a joint meeting to "find solution" to the problem that has led to widespread health concerns in the region.
#On Tuesday, Punjab Chief Minister Amarinder Singh rejected Kejriwal's request to meet and instead asked him to refrain from "trying to politicise a serious issue".
#Singh said that air pollution in Delhi-NCR was not an inter-state matter and needed the Centre's intervention.
#Air quality in the national capital remained 'very poor' on Tuesday despite showing a marked improvement, prompting the EPCA to continue with the emergency measures such as ban on trucks and construction.
#The air quality is expected to further improve today as light rains are expected, which will help in flushing suspended particulates away, Central Pollution Control Board (CPCB) member secretary A Sudhakar said. 
#According to CPCB and SAFAR scientists, the improvement has got much to do with the rise in mixing height (where air and suspended particulates mix), surface wind gaining speed, which aided rapid dispersion of pollutants, and measures implemented under the Graded Response Action Plan (GRAP). 
#Union Environment Minister Harsh Vardhan on Tuesday said there is no need to spread panic among the people over the present air pollution situation in Delhi, adding it is not like the Bhopal gas tragedy which was an "emergency".