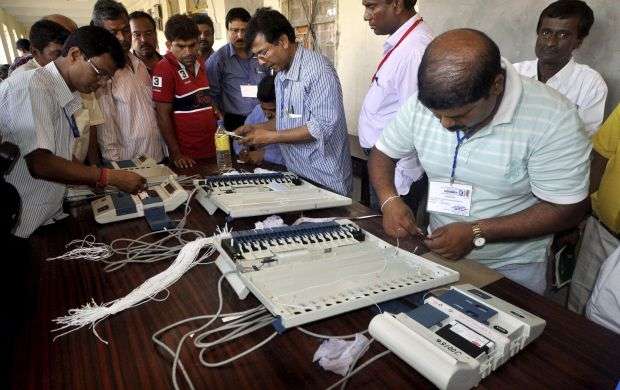 Elections to the three municipal corporations in Delhi will be held on April 22 while the counting of votes will be done on April 25, the state election commission said today. 
The dates were announced by State Election Commissioner SK Srivastava at a press conference here. 
Informing that the nomination process will begin from March 27 and April 3 would be the last date for filing nominations, Srivastava said, "Scrutiny of nominations will take place on April 5 and the last date for withdrawal of nomination is April 8." 
The commissioner also said the expenditure limit for a candidate has been hiked from Rs 5 lakh to Rs 5.75 lakh. 
Rejecting the demands by the Aam Aadmi Party (AAP) and the Congress to conduct the polls on ballot papers, Srivastava said the voting will take place through Electronic Voting Machine (EVM). 
EVMs will be used in the upcoming municipal corporation elections in Delhi: SK Srivastava, State Election Commissioner pic.twitter.com/CeSlKhrtnc

— ANI (@ANI) March 14, 2017
"Voting through EVMs is very safe. And, if the polls are to be held through ballot then some of the rules have to be amended," Srivastava said.
"We started the preparations for the polls keeping in mind use of EVMs only. The dates have been assigned accordingly," the State Election Commissioner said.
The erstwhile unified Municipal Corporation of Delhi was trifurcated in 2012 into North, South and East Municipal Corporation or NDMC, SDMC and EDMC respectively. 
The BJP has been ruling the MCD since 2007. The last polls were held in 2012. 
The much-awaited polls will decide the fate of 272 councillors. While NDMC and SMDC have 104 seats each, EDMC has 64 seats. 
The total number of electorate for the civic polls stands at 1,32,10,206, which include 73,15,915 men, 58,93,418 women and 793 voters in the other category, the state election commission said.
The BJP, the Congress and the AAP, are betting big. 
AAP chief and Delhi Chief Minister Arvind Kejriwal has expressed reservations about electronic voting machines and sought the use of ballot papers in the upcoming civic body polls in the national capital. He has directed Chief Secretary M M Kutty to write to the State Election Commission in this regard. 
"We have sent our comments to the government on this," Srivastava said. 
Delhi Congress president Ajay Maken has also written to the polls body, demanding the voting  through ballot papers.
The move comes close on the heels of Mayawati questioning the "reliability" of electronic voting machines (EVMs). She had alleged that they were tampered with in the Uttar Pradesh Assembly polls, where her party suffered a debacle.