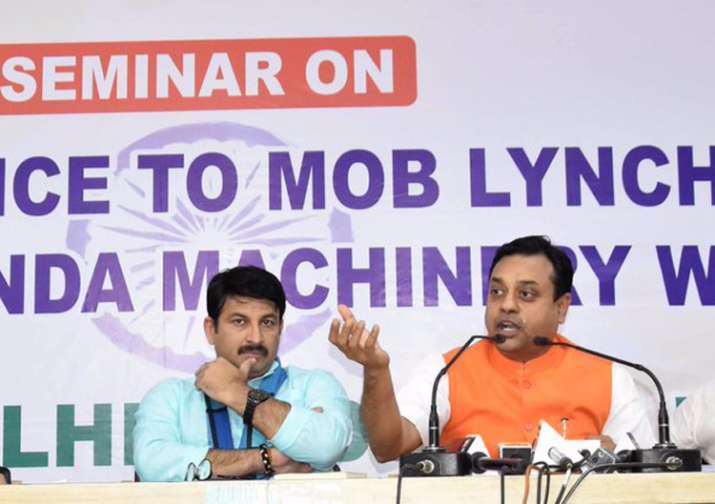 The BJP today said a "conspiracy" was being hatched against Hindus, Prime Minister Narendra Modi and the nation to gain political mileage in the name of intolerance and lynching incidents. 
"There is a war between two ideologies -- one that wants to disintegrate the country and the other represented by nationalists. The war will be won by the latter," party spokesperson Sambit Patra said at a seminar organised by Delhi BJP. 
The seminar, titled "Intolerance to mob lynching - How propaganda machinery works", was attended by Delhi BJP chief Manoj Tiwari and Supreme Court advocate Monika Arora. 
Patra's comments came against the backdrop of recent incidents of lynching in different parts of the country. 
"We will win because we are with the truth. It's not a simple war but it is a targeted conspiracy against the nation, Hindus, Modi and the BJP," he alleged. 
Patra accused the Congress of trying to create a particular narrative on Kashmir. To drive his point home, he cited the statements made by Congress leaders Saifuddin Soz, Mani Shankar Aiyar and Sandeep Dikshit. 
Referring to the violence in West Bengal's Basirhat, he alleged that the Congress and Mamata Banerjee were "encouraging the ideologies of Wahhabism and Salafism in the country in the name of secularism for political objectives". 
The Narendra Modi government took tough steps on foreign funding of NGOs. It is also a reason for the upswing in the clamour over intolerance and lynching, he claimed. The Delhi BJP chief said the scenario in Bengal, which was a centre of knowledge, nationalism and intellectualism, has changed due to the "political game" of Mamata Banerjee. 
"No one will call her Didi after what she has done," Tiwari said, referring to the violence in Basirhat and other parts of West Bengal. 
He said the prime minister has "all the skills" to respond to challenges, whether it is the border issue with China or the country's internal matters.