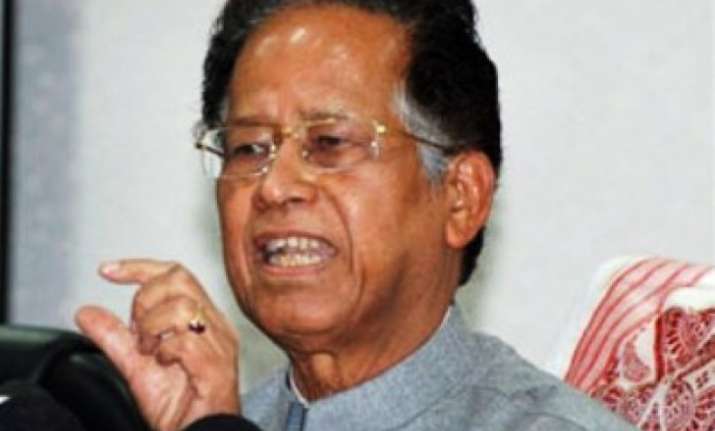 Guwahati: The Congress's fight in the assembly elections in Assam will be against the unfair treatment the state has received at the hands of the central government and Prime Minister Narendra Modi, Chief Minister Tarun Gogoi said here on Friday.
"Our fight in the April polls is going to be against the wrong policies of the BJP-led National Democratic Alliance (NDA) government and Prime Minister Modi against Assam and the injustice meted out to the state and other part of the region," Gogoi told reporters.
Sarbananda Sonowal and other Bharatiya Janata Party (BJP) MPs from Assam had failed to take up the issues of the state and the region before the central government, he said.
"So if we do not fight for the rights of the people of Assam, who will?"
"We are going to tell the people that we have the capacity and capability to fight against the central government over their wrong policies and injustice. We have been fighting for last two years and we can fight," he said.
The alliance between the BJP and Asom Gana Parishad (AGP) showed them up as power hungry parties, said the three-time Assam Chief Minister.
"There is no common minimum programme between them and both the parties are different ideologically. And yet the first thing they did after having the alliance is seat sharing," said Gogoi.
"I believe that the Congress government has done good works in the last 15 years and people will vote us to power again for the sake of development and progress," he said.
Gogoi, nevertheless, wished Assam BJP president Sarbananda Sonowal and BJP Lok Sabha MP Kamakhya Prasad Tasha good luck.
Sonowal is set to contest from Majuli assembly constituency in Jorhar, the home district of Chief Minister Gogoi.
Tasha is to be pitted against Gogoi in Titabor assembly constituency.
"If I have done good works in Titabor and people are happy, they would vote for me. I just want to wish good luck to Tasha," he added.