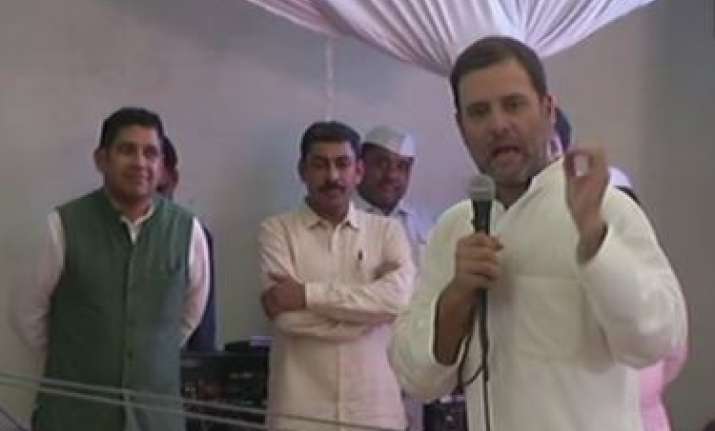 Taking a jibe at Prime Minister Narendra Modi's ambitious "bullet train" project, Congress president Rahul Gandhi on Wednesday said it should be referred to as a magic train which may not materialise in reality.
"It should not be called a bullet train. It should be referred to as a magic train. It will never be constructed, if at all it is ever made it is going to be in Congress regime," news agency ANI quoted Rahul Gandhi as saying.
Amethi: Congress President Rahul Gandhi meets the family of the farmer who died in 'Jais Mandi' following a cardiac arrest on May 4. pic.twitter.com/5qivCiJhYK

— ANI UP (@ANINewsUP) July 4, 2018
Congress president Rahul Gandhi also accused him of playing in the hands of select industrialists.
Catch all the latest news about Lok Sabha elections 2019 HERE
He alleged that the middle class, the poor and the small-time traders were facing troubles times due to the policies of Modi government.
Rahul Gandhi is on a two-day visit to his parliamentary constituency Amethi in Uttar Pradesh. 
"Narendra Modi has broken the backbone of the traders and is playing in the hands of five-10 industrialists," he said reported news agency IANS. Prime Minister had done nothing for the farmers, his government wrote off bad loans worth Rs 2 lakh crore of select 15 elite businessmen, Congress president further alleged.
Catch all the latest news about Indian politics HERE
"The Prime Minister has taken your money through the GST and demonetization and given it to the likes of fugitive businessmen Vijay Mallaya and Nirav Modi. Modi has spelt doom for the farmers," the news agency quoted Gandhi scion as saying. 
Gandhi also blamed the PM for deteriorating international relations and said that while the PM Modi hosted the Chinese President Xi Jinping in Gujarat, their armed forces encroached into Doklam.
Gandhi also alleged that the RSS saw people through the prism of religion and caste. The Congress party considers everyone as a human being, he clarified.