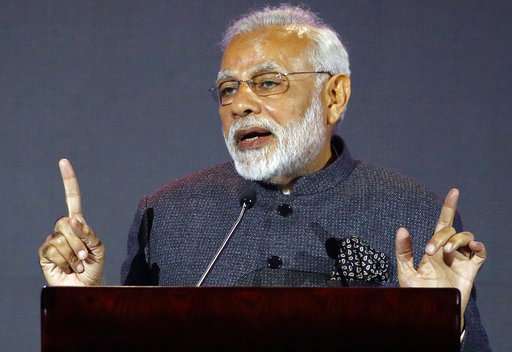 The Congress party was today taken to task both on social media as well as by political parties after its youth wing made a personal and derogatory attack on Prime Minister Narendra Modi.
Yuva Desh, the official handle of Indian Youth Congress's online magazine, tweeted a meme which showed PM Modi, US President Donald Trump and UK PM Theresa May talking to each other.
In the meme, PM Modi asks Trump and May if they have seen his memes put out by the opposition. However, he is shown as mispronouncing the word "meme" as "me-me", instead of "meem" which is the correct pronunciation.
Trump is shown as correcting him after which May tells Modi to "sell tea".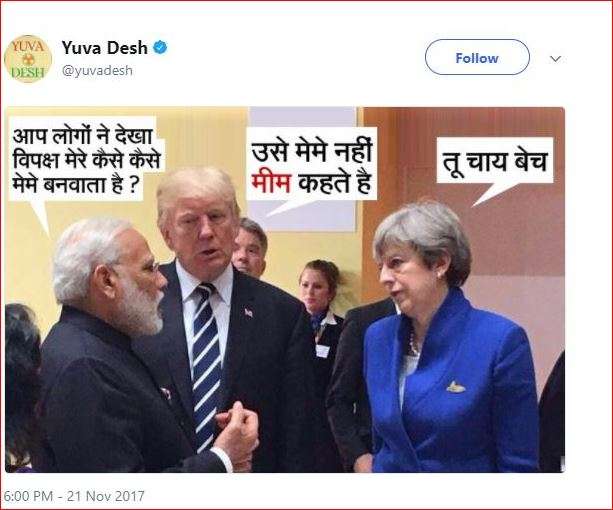 A controversy erupted over the tweet with users slamming the Congress for launching "derogatory" attack on the prime minister.
Taking strong exception to the tweet, Gujarat Chief Minister Vijay Rupani demanded an explanation from Rahul Gandhi over whether he approved it.
BJP spokesperson Sambit Patra compared it with the  'Maut Ka Saudagar' jibe of Mani Shankar Aiyar made ahead of 2014 general elections and warned that the Congress will once again pay dealy for such acts. 
"The nation saw the impact of 'Maut Ka Saudagar' jibe and Mani Shankar Aiyar's abuses in 2014. Similar impact will be seen now. Congress has not only insulted PM but also 6 crore Gujaratis and 1.25 billion Indians," Patra said.
Echoing Sambit Patra's views, former Jammu and Kashmir Chief Minister Omar Abdullah termed it "political suicide."
"What is about elements of the Congress party that commit political suicide with such amazing regularity? This tweet is in such poor taste," he tweeted.
However, the Congress distanced itself from the meme and said that the party has always believed in respecting the prime minister as well as political opponents. 
"INC strongly disapproves & rejects such humour through memes. Differences on policy and opinion aside, Congress culture imbibes respect for PM and all political opponents," Congress leader Randeep Surjewala said.
The 'Yuva Desh' handle later deleted the tweet.