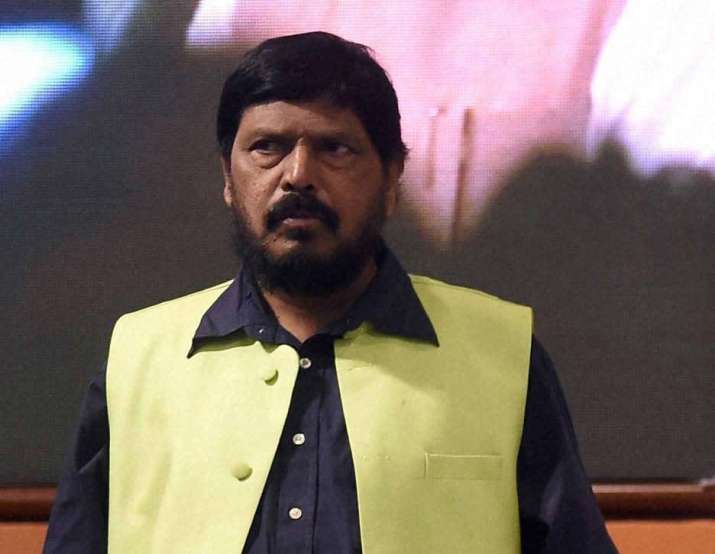 Taking a different view on cow slaughter from NDA partner BJP, Union minister Ramdas Athawale today opposed a complete ban on beef saying farmers will suffer. 
The Social Justice Minister said it will be economically difficult for farmers to keep cows and bulls which are of no use. 
However, he said the cow is an auspicious animal and there could be a temporary ban during auspicious days. 
"Cow is auspicious for Hindus and we should respect that...but other animals like bulls and even cows also which are not giving milk, are usually sold by farmers. 
"So if there is a complete ban on beef, then farmers cannot sell and it will be economically difficult for them to keep these animals. Therefore, we oppose that," Athawale said here on the sidelines of an event. 
He added that there can be a temporary ban for few days as per specific religions. 
"We totally oppose complete ban on beef. But, there could be ban for 2-4 days during the auspicious days of some specific religions to take care of their emotions," he added. 
This came a day after Athawale suggested that people should be allowed to eat meat of bulls and bullocks as a source of protein.  
"Cow slaughter is already banned … Farmers who have buffaloes, which are aged and unproductive, can at least sell them and earn a livelihood," RPI(A) leader had said yesterday.
His remarks came in the wake of Delhi BJP MP Udit Raj's comment that Jamaican athlete Usain Bolt went on to win nine Olympic golds despite being born in poverty after his trainer advised him to eat beef twice a day. 
"Usain bolt of Jamaica was poor and trainer advised him to eat beef both the times and he scored 9 gold medals in Olympic. I intended to convey-players & society to look at ways to win in games rather blaming circumstances & Govt & eating is their choice. As usain bolt &trainer found ways and means to win medals similarly our players and trainers should do as per their circumstances," BJP's North West Delhi MP said in a series of tweets on Monday. 
Athawale partially supported Udit Raj and said, "Bolt is a big sports personality and I agree 50% with Udit Raj that eating beef has made him strong and thus he could win medals. But if we see it in a larger perspective, there are sportsmen who do not eat beef or eat just mutton or are simply vegetarians but won awards." 
Athawale had opposed the Maharashtra government's decision to ban beef last year. 
His remarks hold significance as last month self-appointed cow vigilantes had assaulted Dalits who make a living out of skinning dead cows.