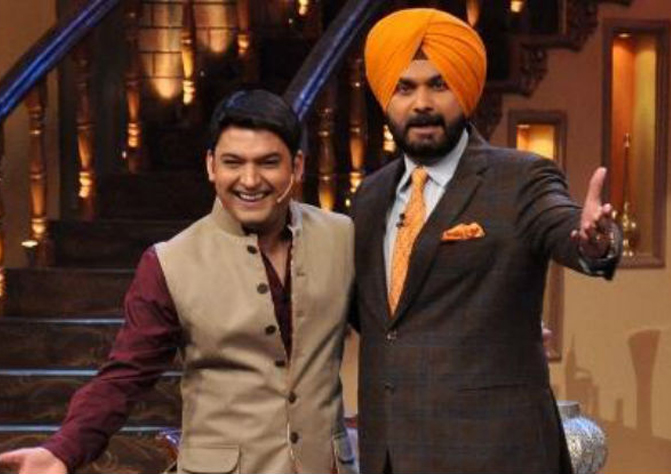 Newly elected Punjab Cabinet minister Navjot Singh Sidhu has refused to cede ground on his TV stint saying that it was not an office of profit and he does not have any other source of income. However, legal experts view his continuation as a celebrity-judge on 'The Kapil Sharma Show' a violation of the "code of conduct for ministers."
When asked to give his opinion, senior Supreme Court advocate and Rajya Sabha MP KTS Tulsi said, "Code of Conduct for union as well as state ministers is very clear. You cannot take any money or earn income from any other source, even if it is for charitable purpose," The Indian Express reported. 
Additional Solicitor General of India Satya Pal Jain was also of a similar view. Sidhu does not hold an office-of-profit under the government but he would have to go through the code of conduct for ministers, he said.
Former Advocate General of Punjab and Haryana, Harbhagwan Singh, said the main question is of morality.
"Legally, there is no bar as it would not come under office-of-profit. But the main question is of morality. On the issue of code of conduct for ministers, the CM can advise Sidhu not to participate in television show, if he feels so," he said.  
RTI activist and HC advocate HC Arora pointed out that Sidhu's continuation at on the TV could even attract the Prevention of Corruption Act. 
"It is the job which he is performing for remuneration. Legally, it is not permissible for a minister. Had he been a sleeping partner in the show, it would not have been a problem," Arora  said. 
What the "code of conduct for ministers" says
After taking office, and so long as he remains in office, the minister has to furnish annually by August 31 to PM or CM, as the case may be, a declaration regarding his assets and liabilities for the previous financial year; refrain from buying from or selling to, the government any immovable property except where such property is compulsorily acquired by the government in usual course; refrain from starting, or joining, any business; ensure that the members of his family do not start, or participate in, business concerns, engaged in supplying goods or services to that Government (excepting in the usual course of trade or business and at standard or market rates) or dependent primarily on grant of licenses, permits, quotas, leases, etc., from that Government; and report the matter to the Prime Minister, or the Chief Minister as the case may be, if any member of his family sets up, or joins in the conduct and management of, any other business.
No minister should personally, or through a member of his family, accept contribution for any purpose, whether political, charitable or otherwise. If any purse or cheque intended for a registered society, or a charitable body, or an institution recognised by a public authority, or a political party is presented to him, he should pass it on as soon as possible to the organisation for which it is intended.
Sidhu will have to give up Culture ministry, says Amarinder 
Punjab Chief Minister Capt Amarinder Singh today said he has no objection over his minister Navjot Sidhu appearing as a celebrity-judge on a popular TV comedy show but will have to take away the Culture Ministry if the legal opinion finds it a case of "conflict of interest." 
Amarinder said he has asked the Advocate General to give his opinion on Sidhu's continuation as a celebrity-judge on 'The Kapil Sharma Show'.  
Sidhu, a Cabinet Minister in Amarinder-led Congress government, holds the portfolios of Local Government and Tourism & Cultural Affairs, Archives and Museums. 
"I do not know what the Constitution says so I will seek legal opinion on this matter. I have no objection if the law allows him to continue appearing on the show but we will have to change his Culture Ministry portfolio to avoid conflict of interst," Amarinder said. 
TV show my only source of income, says Sidhu
Sidhu has insisted that his TV shows will not interfere with his Cabinet responsibilities. 
"I have no liquor, sand mining or transport business like former deputy chief minister Sukhbir Singh Badal. I earn a living through TV shows and I will be in Chandigarh from Monday to Thursday and in Amritsar from Friday to Sunday. What I do at night should not be anyone's concern," he said yesterday.
"I will take first flight back to Punjab after TV shoots in Mumbai," he said. 
As he invited criticism for saying he will continue to appear on the show, his wife and former state legislator Navjot Kaur Sidhu has also come out in his support. 
Sidhu, a cricketer-turned-politician, served as Amritsar MP thrice when he was with BJP. 
In the recent assembly polls, he won the Amritsar East seat, which was earlier represented by his wife, on a Congress ticket. 
'Boss is always right'
Commenting on Punjab CM seeking legal opinion, Sidhu said, "Whatever Amarinder Singh says on this matter is right. Boss is always right." 
He, however, defended himself saying it was not an office of profit. 
"Kirron Kher (Chandigarh BJP MP) goes for eleven months and does programmes (in Mumbai)...I have left commentary for IPL matches," he said. 
"I have left 70 to 80 per cent of work in television entertainment industry...I do office work from 9 am to 6 pm...what I do at night is nobody's business," he added. 
He said that whatever he does is his passion and interest.