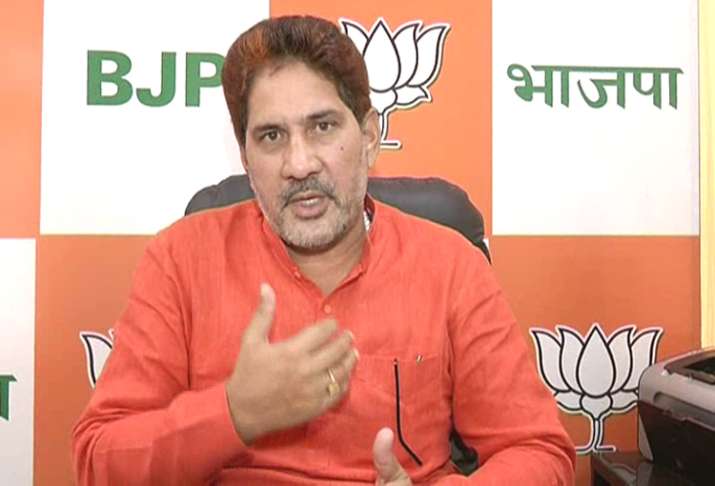 As the opposition stepped up demand for resignation of Haryana BJP chief Subhash Barala whose son is accused of stalking a senior IAS officer's daughter in Chandigarh, the pressure is also mounting on the leader from within the party. Rajkumar Saini, Bhartiya Janata Party MP from Kurukshetra, today said Barala should resign on moral grounds to protect the party's image. 
"I advise state president to resign on moral grounds. To protect the party's image, he should resign before the Opposition raises its finger. A person is not bigger than the party. If the court clears his son of all charges then he can come back to the position," Saini told India TV.  
"If someone in the family has committed a mistake, you should resign on moral grounds," Saini said as he listed past incidents where people on positions of power resigned after their kin's name appeared in some controversy. 
When asked if the incident brought a bad name to the party that is working for women empowerment, Saini said "Beti Bachao, Beti Padhao" just remains a slogan in the face of such incidents. 
Vikas Barala, the 23-year-old son of Haryana BJP chief was arrested along with his friend Ashish Kumar (27) for allegedly stalking a girl late on Friday night. The incident had come to light when the woman, around 28 years of age, called up the police on Friday night, complaining that two youth were chasing her along a stretch of over five kilometre from Chandigarh right up to a point in the Union Territory, which is adjoining Haryana's border. 
Both the accused were released later on bail as they were booked under bailable sections of the IPC and the Motor Vehicles Act. 
'Subhash Barala will not resign'
The BJP today came into defence of its leader saying Subhash Barala will not resign from his post.
"Subhash Barala hasn't resigned and he will not resign. Let law take its own course," BJP General Secretary Anil Jain told The Indian Express. Jain is also the Haryana in-charge.
No political pressure on Chandigarh police, says Kirron Kher 
BJP MP Kirron Kher today said Chandigarh police was not facing any political pressure and assured the victim and her family that justice would be done. She lamented that certain "wild allegations" like the one on CCTV footage going missing were being made and stressed that the law would take its course. 
Kher, the MP from Chandigarh, rubbished claims that the accused were booked under lenient provisions as one of them is related to the state BJP leader. 
"The police are under no political pressure, this is absolutely baseless. The Chandigarh police are doing their job as any professional force does," she said. "During police investigation if something else comes up, I am sure police will follow through." 
Her response came as the opposition stepped up demand for resignation of BJP state chief Subhash Barala and criticised the Chandigarh police for not charging his son with kidnapping in the incident. 
'Why was she allowed to stay out late': BJP leader Ramveer Bhatti stokes controversy 
Chandigarh BJP Vice President Ramveer Bhatti today stoked a controversy by his statement questioning why the woman was "allowed to stay out late". 
"Parents must take care of their children... they shouldn't allow them to roam at night. Children should come home on time, why stay out at night?" Bhatti said. The leader drew flak for his controversial remarks on the incident. 
When asked to clarify his statement, Bhatti said, "What I meant to convey is that it is the responsibility of parents to watch over their children and their activities." 
"It is a general statement and not directed at the victim. I am saying, be it a boy or a girl, parents should be watching what they are doing. I am not saying that girls should be confined to their homes," he said.
He described the stalking incident as "unfortunate and shameful". 
"It is a shameful incident. Whatever happened is unfortunate," Bhatti said. 
Stalking victim, father vow to continue fight 
The victim, who has been interacting with the media after the incident, today said that had she not been the daughter of an IAS officer, things could have ended differently. 
"If I had been a village girl, probably I would not have the resources to fight these guys," she said. 
However, she also said, "If we (being daughter of IAS officer) don't do it (pursue the case), then who will. Like with my father and his post, if we are not going to do this (pursue the case), then how can we expect others to raise their voices," she said.
At the same time, she also said, "But I have the power of people behind me, never before in my life have I felt so much support." 
The victim's father said he had full faith in the investigations. 
"In all honesty, I must say Chandigarh police have actually saved my daughter's life and I am grateful for that. I have faith in the system and law of this land and I must say that my daughter is alive today because the system works. If the Chandigarh police system of helping out women in distress did not work, it is quite possible that she might not have been alive today," he said. 
The IAS officer said that it was an issue of safety of a daughter. 
"Had it been a daughter of a labourer being stalked by some petty criminals, will the offence become any less. They are as much citizens of this country as I am or as that boy is," the victim's father told the media. 
The IAS officer said that Chandigarh police are carrying out their investigations. 
(With PTI inputs)