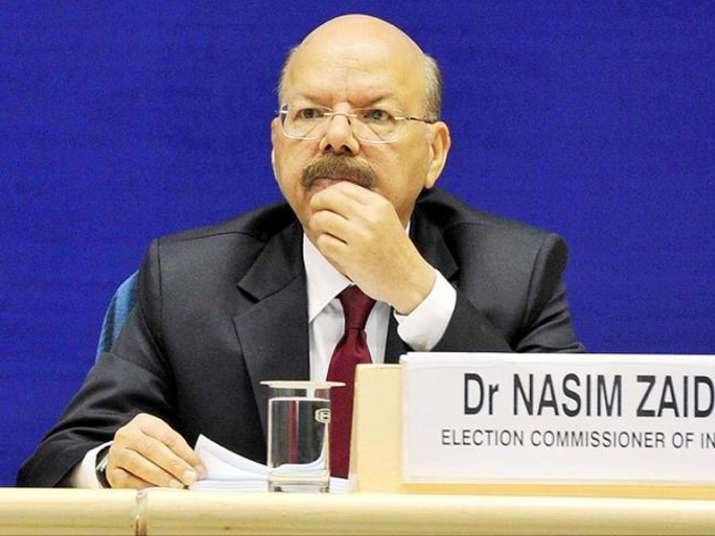 The Election Commission of India (ECI) has said it will offer political parties an opportunity to prove that Electronic Voting Machines (EVMs) used in recent polls can be tampered with.
According to PTI, CEC Nasim Zaidi made this offer during an all-party meet convened by the ECI here today to discuss the reliability of the EVMs - an issue flagged by opposition parties.
"A challenge is on the cards," Zaidi told political parties here, going on record for the first time regarding the EC's proposed move to counter allegations of EVM tampering. 
"Although use of VVPAT (voter verifiable paper audit trail system) with EVMs will ensure total credibility and transparency and put to rest all controversy, the Commission will, after today's meeting, hold a challenge," he added.
It will offer opportunity to political parties to demonstrate that EVM used in recent elections were tampered with or that EVMs can be tampered with even under strict technical and administrative safeguards as applicable during elections, Zaidi said. 
He, however, did not give any date for the proposed challenge which he announced in his opening remarks at the meeting.
Zaidi also said the Commission has "no favourites" and it was equidistant from all parties. 
"You should be convinced that EC has no favourites...we maintain equidistance from all parties and groups. It is our constitutional and moral duty to stand dead centre of the circle drawn around us by 56 political parties (seven national and 49 state recognised parties)," he said.
All the seven national and 35 of the 48 state recognised political parties attended the meeting. 
A detailed presentation on EVMs security features was also made by the ECI top brass to prove that the machines are tamper-proof - a fear raised by the opposition parties. 
Days before the meet, the Aam Admi Party (AAP) had staged a demonstration on hacking a 'voting machine' in the Delhi Assembly. The party had used an EVM prototype to make the demonstration. The EC had trashed the AAP's claim, saying the 'machine is a look-alike and not the ECI-EVM'. 
Some parties have demanded they be allowed access to the machines used in the Uttar Pradesh Assembly polls. 
Sixteen opposition parties had recently told the Commission that it should revert to the paper ballot system, claiming that the faith of the people has 'eroded' in the machines. 
Several parties, including AAP, BSP and Congress had blamed tampered machines for the victory of BJP in the recently-held assembly polls.