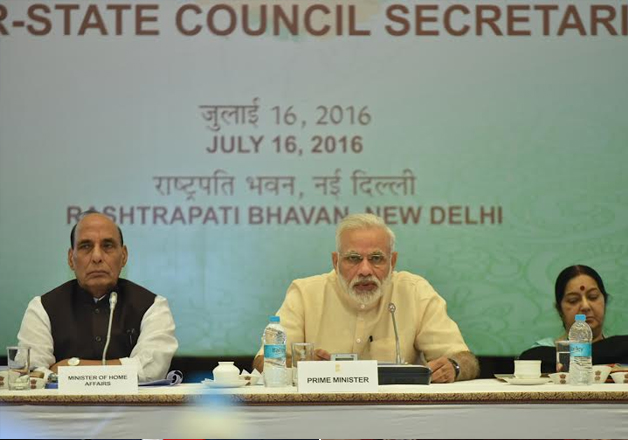 New Delhi: Prime Minister Narendra Modi today said that the Centre and States have to walk shoulder to shoulder for development of the country.
Addressing the eleventh meeting of the Inter-State Council in New Delhi here, convened after a gap of 10 years, Modi said, development is possible only when the states and Centre work in close coordination.
"It would be difficult for any Government to successfully implement a scheme on its own. Therefore, provision of adequate financial resources is as important as the responsibility for implementation," he said.
The Prime Minister said better relations between the two will ensure good future for every citizen, adding that more funds have been allocated to the States in 2015-16 compared to 2014-15.
Saying that cooperative federalism is an article of faith for his Government, the Prime Minister said, efforts are being made give 40 thousand crore rupees, kept in the banks, to the states.
He also asked the states to focus on intelligence sharing which will help the country stay "alert" and "updated" in countering internal security challenges.
The Prime Minister told the Chief Ministers that "we should focus on how we can make our country prepared to counter challenges to our internal security".
Modi said internal security cannot be strengthened until and unless the states and the Centre focus on sharing intelligence.
"We have to remain alert and updated always," he said.
Chief Ministers of all states, Lieutenant Governors of Union Territories and 17 Union Ministers are members of the Inter-State Council. For the first time, Modi was interacting with all Chief Ministers on a single platform ever since he assumed the charge two years ago.
The Prime Minister said the meeting of the Council would deliberate on internal security challenges and how to counter them and how states the states and the Centre can cooperate.
"With close cooperation, we will not only strengthen the Centre-State relations but make a better future for the citizens," he said.
Speaking about education, Modi said that country's strength is its youth therefore there is a need to provide good environment to the students across the country where they can become more skilled.
Addressing the meeting, Home Minister Rajnath Singh said that the government is committed to promote cooperative federalism.
He said that the Centre and the States have to play a pivotal role to ensure overall development of the country.
"There is a need to create healthy competitive atmosphere among the states. States to use each others best practices to bring reforms," he said.
Chief Minister of Uttar Pradesh Akhilesh Yadav, belonging to Samajwadi Party, and Karnataka Chief Minister Siddaramaiah of Congress did not participate in the meeting. Mehbooba Mufti, Chief Minister of Jammu and Kashmir, which is witnessing turmoil following violent protests after the killing of Hizbul Mujahideen militant Burhan Wani did not participate in the meeting. Mehbooba belongs to PDP.