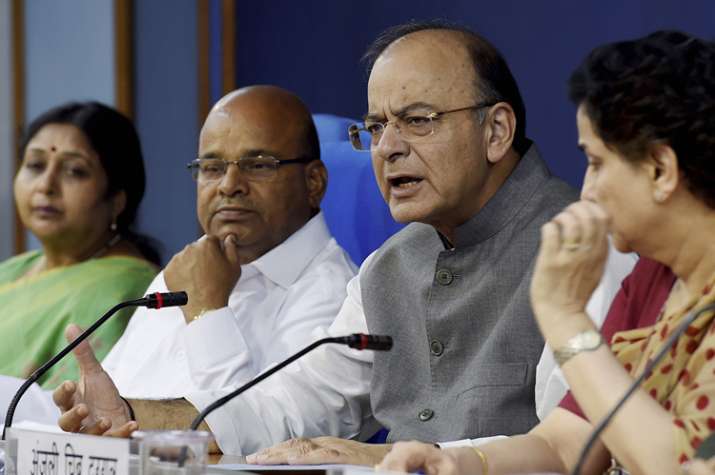 The Union Cabinet on Wednesday approved setting up of a commission to examine the sub categorisation of almost 5,000 backward castes in the central list to ensure that the benefits extended to OBCs reach all the communities. 
"The Union Cabinet chaired by Prime Minister Narendra Modi today approved a proposal for setting up of a Commission under article 340 of the Constitution to examine the issue of sub-categorization of the OBCs," the government said in a statement. 
The cabinet has increased the 'creamy layer' ceiling for the Other Backward Classes (OBC) category to Rs 8 lakh per annum from the existing Rs 6 lakh for central government jobs. 
Briefing reporters on the decisions taken by the Union cabinet, Finance Minister Arun Jaitley said as many as 11 states, including Andhra Pradesh, Telangana, Jharkhand, West Bengal and the Jammu region in Jammu and Kashmir already have such categorisation in state government jobs. 
There is no sub categorisation in the central list. 
Besides taking up the exercise of identifying the respective castes,communities, sub-castes in the Central List of OBCs and classifying them into their respective sub-categories, the proposed commission will examine the extent of inequitable distribution of benefits of reservation among caste and communities, including the broad categories of OBCs included in the list. 
The commission will also work out the mechanism, criteria, norms and parameters, in a scientific approach, for sub-categorization within such OBCs. It will submit its report in 12 weeks from the day it is set up.
Earlier in July, the National Commission for Backward Classes (NCBC) had in its report to the government recommended sub-categorization within the OBCs into three categories.
The three categories recommended by NCBC are Extremely Backward Classes (Group 'A'), More Backward Classes (Group 'B') and Backward Classes (Group 'C'), MoS for Social Justice and Empowerment Krishan Pal Gurjar said.
The commission has also recommended that the Extremely backward Classes be grouped into a separate group which could include aboriginal tribes, vimukta jatis, nomadic and semi-nomadic tribes, wandering classes etc. 
The recommendation was made in an attempt to distinguish between extremely backward classes  and 'forward' groups among the OBCs. 
The Supreme Court in an order in November, 1992 had observed that there is no Constitutional or legal bar to a State categorizing backward classes as backward or more backward and had further observed that if a State chooses to do it (sub-categorization), it is not impermissible in law.