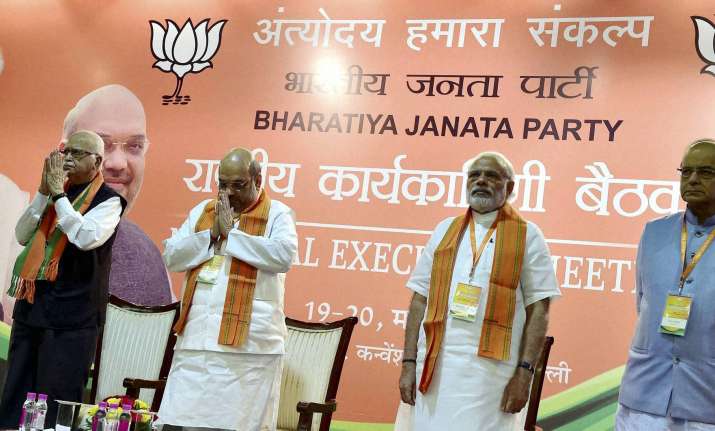 New Delhi: Union minister and senior BJP leader Arun Jaitley today said that the party would "increase its presence" in the upcoming assembly elections.
Addressing the media on day 2 of the National executive meet of the BJP, Jaitley said, "We will improve our position in all the five states. Our alliance in Assam is at centre-stage... we are the leader of that alliance. The politics will change in Kerala. We will try to increase our voteshare in Bengal."
Speaking on the ongoing row over nationalism, Jaitley said  that the ideology of nationalism is the driving force behind the BJP.
"We are in the favour of freedom of expression. The freedom of speech and the feeling of nationalism coexist. We are in the support of dissent and disagreement. The Constitution gives the freedom of dissent but not the destruction of the nation," Jaitley said.
He also said that the issue whether one can chant Bharat Mata ki Jai is undebatable.
He said,"People in India should have absolutely no difficulty as far as this slogan is concerned,best example you saw at Eden Gardens yesterday."
Jaitley also took a swipe at the Congress, saying it has "lowered its level of ambition" and is "quite content to become the tail of the alliance".
"Look at Bihar, West Bengal, Tamil Nadu, Congress has lowered its level of ambition," Finance Minister said.
Keeping the hopes of government formation in J&K alive, Jaitley said "We are still committed to agenda for governance that was formed in the state".
Jaitley also discussed Uttarkhand Crisis saying,there is a political crisis in Uttarakhand but a majority of MLAs say that they voted against finance bill and speaker says it is passed.
"To consider a failed bill passed, it is happening first time in the country," he added.