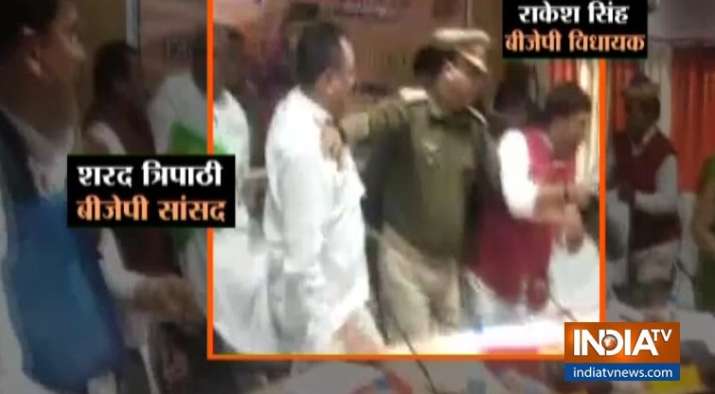 In a bizarre incident, Bharatiya Janata Party's MP from Sant Kabir Nagar (UP) Sharad Tripathi and local BJP MLA Rakesh Singh exchanged blows during a district planning meeting in Collectorate office on Wednesday.
A video released by news agency ANI shows the two BJP leaders engaged in an argument, which escalates quickly leading to violence. The two leaders can be heard saying - but I am the MP, but I am the MLA, presumably over the final word on the placement of names on the foundation stone of a project. Soon the MP took out his footwear and started hitting the MLA, who responded by throwing punches at the MP. 
According to local media, after the meeting, the MP closed himself in a room, whereas the MLA staged a protest in the hallway with his supporters. DM Raveesh Kumar tried to mediate between the two legislators, Amar Ujala reported. 
#WATCH Sant Kabir Nagar: BJP MP Sharad Tripathi and BJP MLA Rakesh Singh exchange blows after an argument broke out over placement of names on a foundation stone of a project pic.twitter.com/gP5RM8DgId

— ANI UP (@ANINewsUP) March 6, 2019
The BJP has reportedly asked for a report on the incident. The party is likely to take action against both the leaders, reports said.
After the news of the brawl went viral, the BJP MP apologised. "I regret the incident and feel bad about it, what happened was against my normal behaviour. If I am summoned by state chief then will put my point across," BJP MP Sharad Tripathi said.