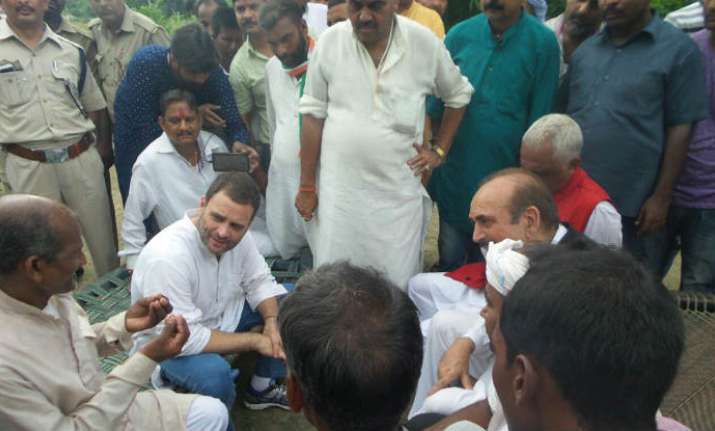 Lashing out at the Bharatiya Janata Party (BJP) for calling Rahul Gandhi's ongoing 'Khat Sabha' a flop show, the Congress party today said that it reflects the jealousy and frustration of the saffron party.
"All of Rahul Gandhi's programmes are extremely successful, whether you talk about 'Khat Sabha' or the 'padyatra' in the city and villages. Wherever he's going, he's doing extremely well. What else can the BJP do?" Congress general-secretary Ghulam Nabi Azad said.
Downplaying the controversy over the farmers walking away with the cots (khats), Azad said that he agreed with Congress vice-president's response to the BJP on this issue.
"I agree with Rahul ji's comments. The BJP is calling these poor farmers thieves because they walked away with a khat. However, big businessmen involved in scandals worth crores are not thieves because the government helps them leave the country," Azad said.
Explaining the rationale behind Rahul Gandhi's ongoing yatra, Azad said,"The agenda of this kisan yatra is to have the loans of poor farmers excused so that they can have a debt free existence."
Earlier, State BJP chief Keshav Prasad Maurya had alleged that villagers were being lured into attending the 'Khat Sabha' on the promise of getting cots.
"The khat loot that followed proves us right. It also shows that the villagers had come for the cots and not to hear Rahul Gandhi," Maurya said.