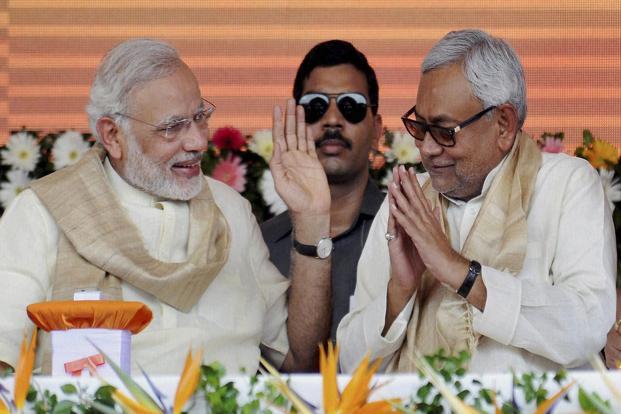 Bihar Chief Minister Nitish Kumar on Monday said the Janata Dal-United will discuss seat sharing for the Lok Sabha elections 2019 with the Bharatiya Janata Party when the time comes. The JD-U leader also denied any differences with the BJP and said there were no troubles within the National Democratic Alliance. 
"We will discuss seat sharing for 2019 polls when the time comes," Nitish Kumar told the media here.
He said this a day after the JD-U National Executive meeting in Delhi decided that it would like to contest the 2019 Lok Sabha elections with its coalition partner BJP. 
Catch all the latest news about Lok Sabha elections 2019 HERE
"We will sit together at the right time to discuss seat sharing." 
Nitish Kumar, however, criticized senior BJP leader and Union Minister Griraj Singh for meeting some persons accused of taking part in riots. "We will not allow communal troubles in the state." 
Meanwhile, on Sunday, the Janata Dal (United) in its national executive meeting in the national capital agreed to give all the power to party's national president Nitish Kumar.
Catch all the latest news about Indian politics HERE
"In the light of 2019 election, all the power has been given to the National President to take political decisions. It was also decided how will we go about in the upcoming election," ANI quoted JD(U)'s General Secretary Sanjay Jha as saying after the meeting.
Less than a year is left when the Lok Sabha elections 2019 will take place to constitute the 17 Lok Sabha. In Bihar, JD (U) is planning to play a dominant role.
(With IANS inputs)