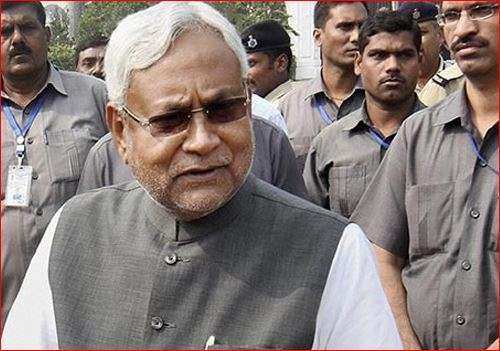 A day after Nitish Kumar won the trust vote in the Bihar assembly , the chief minister is all set to expand his cabinet today at 5pm.
Deputy Chief Minister Sushil Kumar Modi and state BJP President Nityanand Rai are believed to have held discussions with Chief Minister Nitish Kumar in this regard at his residence this morning. State JD(U) President Bashistha Narain Singh was also present on this occasion.  
New ministers would be inducted from Janata Dal(United), Bharatiya Janata Party and other NDA constituents.
From BJP quota, 12 ministers are likely to take oath today. They are - Nand Kishore Yadav, Prem kumar, Mangal pandey, Suresh sharma, Rana Randhir Singh, Pramod kumar, KK Rishi, Braj kishore Bind, Ramnarayan Mandal, Vijay kr Sinha and Vinod Singh kushwaha.
From JD(U) quota, 8 ministers are likely to take oath today. They are - Rajeev Ranjan Singh alias Lallan singh, Vijendra Yadav, Krishnandan verma, Maheshwar Hazari, Madan Sahni, Shailesh kr, Jai kumar singh and Santosh Nirala
Pashupati paras of LJP is also likely to take oath during today's cabinet expansion. 
Meanwhile, BJP ally Hindustani Awam Morcha's (HAM) chief Jitan Ram Manjhi, the only legisllator from his party, has announced that he will not join the cabinet.
Maanjhi, a former Chief Minister, left for Delhi on Saturday morning. One member of his party may be inducted in the cabinet from HAM quota.
Nitish Kumar on Wednesday resigned as the Chief Minister, dumping Grand Alliance partners Rashtriya Janata Dal and the Congress. 
He again took oath as the Chief Minister with the support of the National Democratic Alliance on Thursday. Senior BJP leader Sushil Kumar Modi also took oath as Deputy Chief Minister.