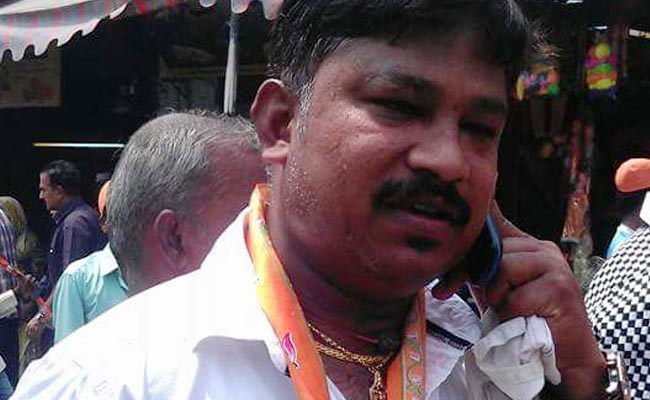 An RSS activist was hacked to death by two motorcyle-borne men in Bengaluru, police said. The episode occurred on Kamaraja Road when Rudresh was returning home after attending a meeting of the RSS at an adjacent range, they said.
Prohibitory orders were clamped in some areas of the city. The RSS had staged protests in parts of Bengaluru since Sunday afternoon and had today called for a shutdown in the city's Shivajinagar constituency, the area in which Rudresh led an RSS unit.
BJP, the principal opposition party in the state, called for state-wide protests against the RSS activist's killing and demanded quick action against the attackers.
Assured of action now, the parties have called off the protests in the city.
Rudresh, a real estate agent, was initially thumped down from his bike and then assaulted by the pair with a deadly weapon, police said. The aggressors managed to escape despite a few individuals chasing them, they said.
Rudresh was rushed to Bowring Hospital, where doctors declared him brought dead, police said. Police said they suspected that personal rivalry could be the reason behind the murder.
However, RSS city spokesperson Rajesh Padmar alleged that it was a continuation of an 'organised elimination' of the organisation's workers.
"This is just continuation of an organised elimination of our workers. Such an attempt was made also against a RSS worker sometime back here. Hence we suspect it is nothing but continuation of killing and targeting our workers," he said. Padmar said RSS would stage a protest here tomorrow against the murder.
Former Chief Minister and state BJP president B S Yeddyurappa said the incident and the assailants' escape "is a telling comment on the law and order situation in the state."
He said the murder was a litmus test for the government "to demonstrate its seriousness, sincerity and will in nabbing the killers and taking the issue to its logical end."
He alleged that in recent attacks on two RSS workers, the two men arrested were released on bail within a few hours. "In the earlier two instances, government failed. I demand home minister Dr G Parameshwar come clean on this issue," he added.
He warned that BJP would launch an agitation to mount pressure on the government over the issue of attacks on RSS swayamsevaks and BJP workers.
(With PTI inputs)