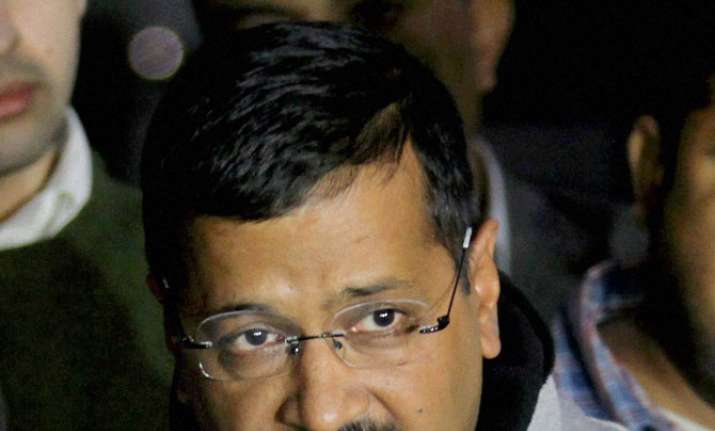 Aam Aadmi Party (AAP) supremo and Delhi Chief Minister Arvind Kejriwal today accused the Badal family of plundering Punjab and warned that they will be held accountable for their "misdeeds" if AAP forms the next government in the state.
Kejriwal also alleged that the Congress was colluding with the Akali Dal to keep AAP at bay.
Describing the SYL canal water dispute as a political issue, Kejriwal said that if AAP government is formed, it will strongly defend the rights of Punjab.
Hitting out at the ruling Akalis for "destroying Punjab", the AAP national convener said, "for the first time, they are facing an outfit which is giving them a tough fight".
He said that AAP wants Badals to bite dust at the electoral hustings so that they can't enter the Vidhan Sabha even as the opposition MLAs.
"Against the Badals and (Badal family relative and Cabinet Minister Bikram Singh) Majithia, we have pitted our top leadership in the polls. It is not only important to put them behind bars for their misdeeds, but also to ensure their unholy feet don't touch the Vidhan Sabha (as MLAs)," he said.
He said AAP has pitted party's Delhi legislator Jarnail Singh against Chief Minister Parkash Singh Badal from Lambi constituency, AAP's Sangrur MP Bhagwant Mann from Jalalabad to take on SAD chief Sukhbir Singh Badal and party's senior leader from Punjab, Himmat Singh Shergill will take on Bikram Singh Majithia from Majitha assembly segment.
The Delhi Chief Minister alleged that a deal had been struck between Amarinder and Badal under a "tacit understanding".
"Jarnail held an impressive roadshow and he is getting overwhelming support. Seeing the response, CM Badal approached Capt Amarinder Singh saying we took back cases against you, now you help us. Capt decided to fight from Lambi to divide the anti-Badal vote, which otherwise was going to Jarnail Singh," Kejriwal claimed.
"To justify his fight, Capt is saying he wants to fight injustice of the Badals, but why has he announced to fight from Lambi just 10 days before the polls. In entire Punjab, this poll is predominantly about who is going to defeat the Badals and entire Akali leadership. Now, Capt has joined hands with the Badals and he has betrayed the people and people will never forgive him for this," he said.
Kejriwal said Bikram Singh Majithia will be sent behind the bars for his alleged role in a multi-million rupee drug racket in the state.
"Majithia and his entire gang has pushed Punjab into drugs. People are scared of them… When AAP government is formed, we will punish them. I want to say that on March 11 results will be declared and government will be in place by March 22. And on April 15, we will send Majithia behind the bars. People of Punjab will get freedom not just from drug menace, but they will be free from reign of terror and goondaism," he said.
(With PTI inputs)