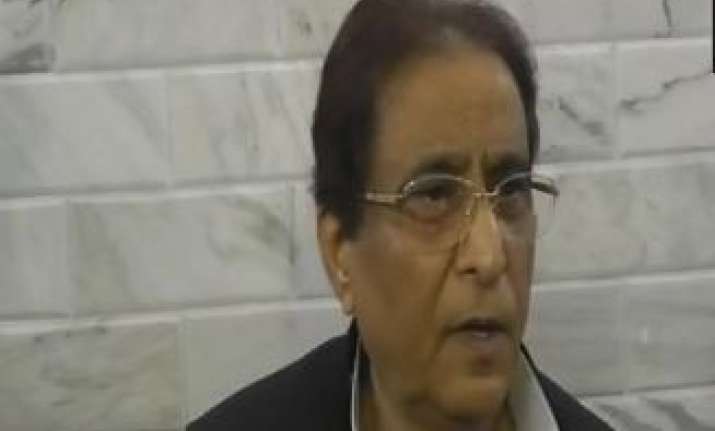 Samajwadi Party leader Azam Khan on Tuesday advised Muslims to stay away from the dairy business for the safety of their upcoming generations.
"My request to Muslims who are in dairy business and cow trading is to stop it for the safety of their upcoming generations," ANI quoted him as saying.
He further said it is necessary at a time when some politicians are heard saying "even if a cow is touched (by Muslims) there will be dire consequences". (Gai ko chhune pe bhi anjaam bhugtna hoga) 
Azam Khan's comments have come after Alwar lynching.
Catch all the latest news about Lok Sabha elections 2019 HERE
Meanwhile, the high-level police team formed on Monday morning on directions of state Director General of Police O.P. Galhotra visited the location where Rakbar alias Akbar was brutally bashed by a mob in Alwar on Saturday night as they accused him of smuggling cows.
The killing comes four days after the central and state governments came under a sharp criticism from the Supreme Court over frequent lynching incidents. The Supreme Court also asked Parliament to come up with a law to tackle cow vigilantism and lynch, calling such incidents "horrendous acts of mobocracy" that should be nipped in the bud.
It is the third such incident in Alwar since April last year when dairy farmer Pehlu Khan was beaten to death by a mob. Another man, Umar Mohammed, 35, also a dairy farmer was found dead near the railway tracks in Alwar in November 2017. He was also allegedly killed by vigilantes when he was transporting cows to his home in Pahari tehsil of the district.
The latest incident came hours after Modi in his speech to the Lok Sabha on Friday said "the incidents of violence are against the basic principles of humanity", urging state governments to take strict action in such cases.
The killing triggered an angry reaction from the Congress. Senior Congress leader and former Rajasthan Chief Minister Ashok Gehlot tweeted his condemnation, slamming the Rajasthan government over its failure to put an end to such "heinous crimes".
(With inputs from agencies)