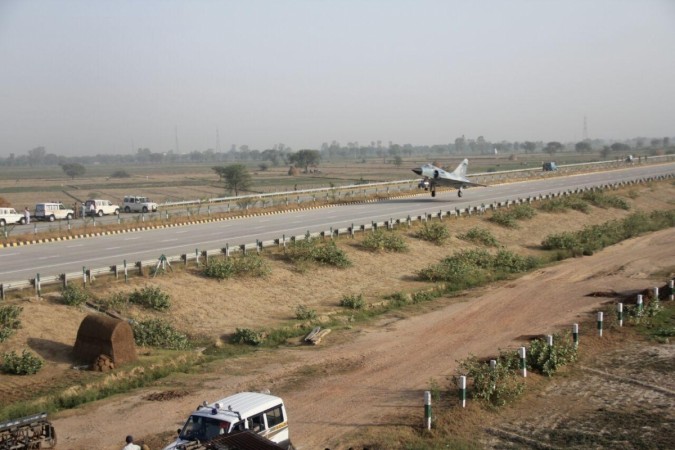 Uttar Pradesh Chief Minister Akhilesh Yadav will today inaugurate his dream project – the six lane Agra-Lucknow Greenfield expressway – in Unnao. Besides the ceremony coming just a day ahead of Samajwadi Party chief Mulayam Singh Yadav's 78th birthday, there are more reasons that have made this event special.
For starters, eight fighter jets of the Indian Air Force (IAF) touched down on India's longest expressway in Uttar Pradesh as it opens to the public on Monday. 
Unnao: IAF jets touch down on Agra-Lucknow expressway pic.twitter.com/ffFHoXPO7Q

— ANI UP (@ANINewsUP) November 21, 2016
Four Sukhoi jets will fly down from Bareilly and four Mirage 2000s from Gwalior and skim the six-lane highway in simulated landings, a first for any road launch.
#WATCH Unnao: IAF Mirage 2000 jets touch down on Agra-Lucknow expressway pic.twitter.com/xiZtjzZzHy

— ANI UP (@ANINewsUP) November 21, 2016
A large contingent of Samajwadi Party leaders - including the feuding Yadav family - put up a show of unity with Shivpal Yadav and Ram Gopal Yadav also present at the opening ceremony.
Days after the feud in the ruling Yadav family went public, State Party President Shivpal Yadav was seen touching the feet of Ramgopal Yadav and Akhilesh, Shivpal and Ram Gopal were seen talking to each other.
The icing on the cake for the party came from Shivpal who heaped praise on Akhilesh, terming him the most popular chief minister who has done exceptional work in the state.
The 302-km expressway was completed in a record 23 months time. Starting from Agra, the expressway will pass through Ferozabad, Mainpuri, Etawa, Auraiya, Kannauj, Hardoi, Kanpur and Unnao, before reaching Lucknow.
It is said that the expressway will drastically cut down on the travel time. The distance can now be covered in around 3.5 hours, thereby saving Delhi-Lucknow travel time by up to 5-6 hours. 
On the other hand, former chief minister and BSP supremo Mayawati accused the ruling party of trying to rush the launch of the highway when even road signs haven't all been put up.