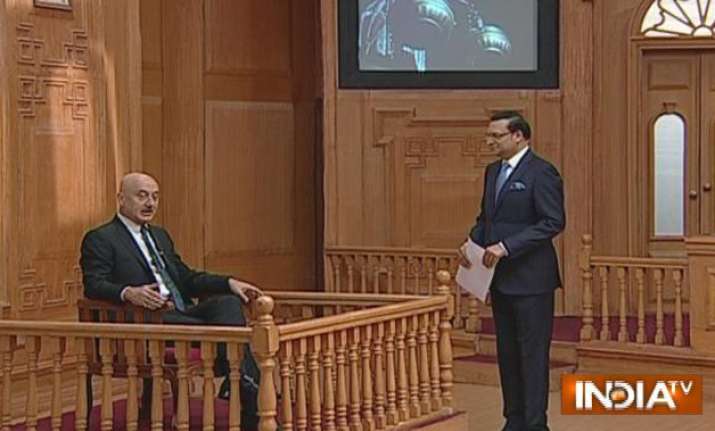 New Delhi: Bollywood actor Anupam Kher has ruled out joining politics in the near future, saying he valued his freedom more than joining any political party.
"I do not have any intention of joining politics for the next several years. My freedom is important inasmuchas my views coincide with the views of the people. The day I feel I'll join politics, it will become a subject of interpretation. I will not join now, but anything can happen in future", said the intrepid actor while replying to questions in Rajat Sharma's show Aap Ki Adalat, to be telecast tonight on India TV.
Asked whether he desired his wife BJP MP Kirron Kher to become a minister in the Modi government, Anupam Kher replied: "It will be a good thing if she becomes a minister tomorrow. I think she deserves. My marriage with Kirron took place 30 years ago, and we knew each other for 5-6 years prior to that. So I don't need to do 'chamchagiri' to gain her confidence. But again, this is a charge being levelled by some people who want me to be on the defensive."
On critics describing him as a 'chamcha' (sycophant) of Prime Minister Narendra Modi, Anupam Kher replied: "I'm better off being (called) a chamcha of Narendra Modi, than a 'balti' (pail) of somebody else. They are using this word (chamcha) to put me on the defensive. I am a chamcha of thespian Dilip Kumar and Amitabh Bachchan too."
"If you use the word chamcha for admiration, then it is perfectly alright with me, because after a long time we now have a Prime Minister who has brought emotions in me for my country, a man whose career graph is not a fluke, a man who did not enter politics as part of any legacy."
"I have met Modi twice after becoming PM, once as part of a delegation after taking out a march, and then at a book launch. I do not have any direct link with him, but here's a Prime Minister who is constantly talking about the country. No PM prior to him ever spoke on women's toilets from the ramparts of Red Fort."
"Why can't our children chant slogans in admiration of our PM in schools? As children, we used to chant slogans for Lal Bahadur Shastri in our schools. What is the problem?"
"Here is a man who is constantly working day and night, who has enhanced our country's image throughout the world. But they (critics) are trying to find loopholes in each aspect of his work and run him down. But the light of Truth always shines  from the top of a hill, even though it may appear dim from far away."
On his outburst against retired Supreme Court judge A K Ganguly at The Telegraph conclave in Kolkata, Anupam Kher said: "It was the Indian inside me, which suddenly flared up, and told him his statement was shameful. Psychologically, the character of the angry old man in the film Saaransh was somewhere in the back of my mind."
"Ganguly Saheb, with due respect to him, had questioned the manner in which Parliament attack convict Afzal Guru was hanged. I was angry because Afzal Guru was hanged after going through all the due processes of our judicial system, and this statement was coming from a former Supreme Court judge. I told him it was shameful. What message are you trying to convey to the world? I had decided that a diplomatic reply would not suffice."
"How can we tolerate people shouting slogans in support of those who want to break up our country? Ask the family of martyr Hanumanthappa, who was dug out alive six days after buried 25 feet deep in snow, what it feels like when somebody shouts slogans of 'barbaadi'? What is a section of media trying to prove?"
"I want to ask those journalists, did you ever try to do even a half-hour interview with the family of Captain Pawan Kumar, who died fighting terrorists in Kashmir, and who had been a JNU student? Did you interview the widow of martyr Hanumanthappa? And here you are projecting that young man as a new crusader, who says Army jawans have raped women in Kashmir? How can he (Kanhaiya Kumar) say something like this?"
Anupam Kher said: "It seems the definition of a hero is changing. Our heroes should be those who are indeed icons, like Sachin Tendulkar, Sania Mirza, Saina Nehwal, Dhoni or Capt Pawan Kumar. They are heroes because they have done something for the nation. But I will never allow such people (Kanhaiya Kumar) to become our nation's heroes."
On Congress leader Rahul Gandhi's stand on the JNU incident, Anupam Kher said: "As a person I've nothing against Rahul. Rahul is a sincere person, a reluctant politician. It's my personal feeling, which may be wrong, that politics was thrust on him. He'd have been happy doing something else, and I'm not saying this from a bad point of view."
"I've heard that even Rajivji, who became the Prime Minister after the unfortunate demise of Indiraji,  was not interested in politics, but he took charge. I would prefer Rahul should himself evolve his own personality, but there are too many people prompting him. If you see in Parliament, there are always five or six persons near him, keeping watch over whether he was reciting the lines that they have told him."
Aap Ki Adalat with Anupam Kher will be telecast tonight (March 12) at 10 pm. The show will be repeated on India TV on Sunday at 10 am and 10 pm.