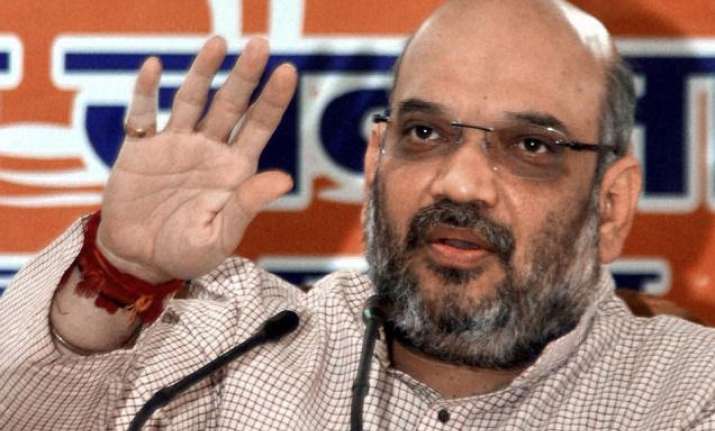 Sibsagar/Sonari: BJP President Amit Shah today hit out at Assam Chief Minister Tarun Gogoi saying the state made no progress and during his 15-year tenure, which only saw unprecedented corruption and illegal infiltration.
Addressing election campaign meetings at these two places, he promised that BJP would take Assam on the road of progress if voted to power by ensuring a corruption-free government and stopping illegal infiltration from Bangladesh.
"Corruption is highest in Assam. No money is being spent for development of roads, electricity supply, building good hospitals. If you search, the money sent for development will be found in the ministers' houses," Shah claimed.
He held the Congress-led state government "responsible" for "people remaining below the poverty line, 42 per cent not receiving clean drinking water, no electricity, no proper facilities for adivasi tea garden workers, increased maternal and child mortality rate, and 19,000 incidents of atrocities against women." 
The central government gave funds for several development schemes but Gogoi could not give (project) completion certificates when asked for and that is why development has remained halted in Assam, he claimed.
"Gogoi cannot give a government that will help the poor, only BJP can. Assam's people gave him 15 years. But Assam remained where it was or went backwards when the rest of the country progressed," the BJP president said.
"You ask Tarun Gogoi what he has done for Assam during his last 15 years in power here. He sent a Prime Minister from Assam to the Rajya Sabha for 10 years. What did he do for making railway lines double-track? Nothing. He only talked and there is unprecedented corruption," Shah said.
BJP and development have become synonymous, he said, adding where there is NDA and BJP government, there is development.
To buttress his point, he named states like Gujarat, Madhya Pradesh, Haryana, Rajasthan, Maharashtra and Goa.
In these states, he claimed, hospitals and primary health centres were built in each village, clean drinking water and electricity supplied in each household and higher secondary science schools opened in each tehsil.
Asserting that Narendra Modi started working for Assam as soon as he became Prime Minister, Shah said, "A scientific plan was undertaken for controlling floods in Assam, plans are afoot for making railway lines double track, Rs 25,000 crore earmarked for construction of 447 km national highways, the gas cracker project that remained dormant for 21 years has started." 
"Assam has never been safe under Congress' 55-year reign.
Its border has been opened as a road for lakhs of infiltrators from Bangladesh to snatch away employment from Assam's youth," the BJP chief alleged.