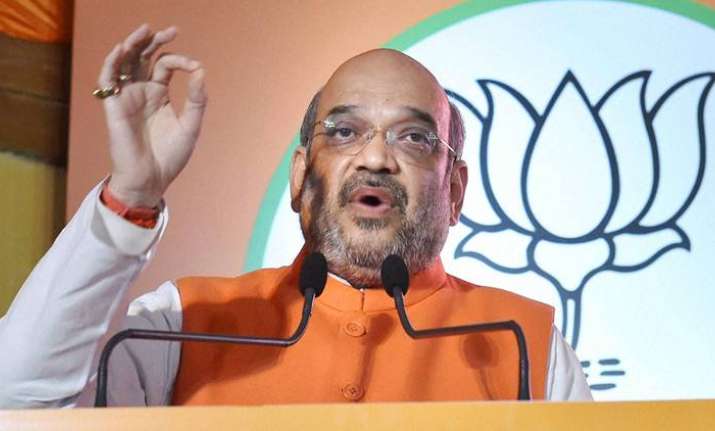 Exhorting BJP MPs to work for improving the party's performance in 2019 Lok Sabha elections, BJP president Amit Shah on Thursday asked them to draw winning chart from "Kashmir to Kanyakumari".
According to a report in Times of India, Amit Shah said that the party needs to focus on regions where it has not done well so far and asked the BJP MPs to take 'NaMo track record' of governance to the people in these areas. 
"We should focus on regions where the party hasn't done well so far for which `NaMo track record' of governance should be shared with the people," Amit Shah while addressing BJP Parliamentary Party meet on the party's 37th foundation day.
Warning BJP MPs against getting complacent after winning 282 seats in 2014 Lok Sabha elections, the party chief asked them to aim for more seats in 2019 general elections. 
"You have NaMo (Narendra Modi) track record starting from Gujarat before you. Take the NaMo role model of good governance and development to the masses," Amit Shah said.
He also recalled how people of India rejected issues like casteism, family rule and appeasement in 2014 Lok Sabha elections as well as in the recently concluded UP Assembly elections.
"Modi had said in 2014 that the three factors of casteism, family rule and appeasement fail Indian politics. People had dealt a blow to these factors by voting for BJP in 2014.They have done it again in the recent Uttar Pradesh polls. We have vowed to rid polity of these ills," Amit Shah said.
Interestingly, Amit Shah addressed the BJP Parliamentary Party meet in the absence of Prime Minister Narendra Modi who was travelling,  and it clearly underlined his unofficial number two position in the hierarchy.