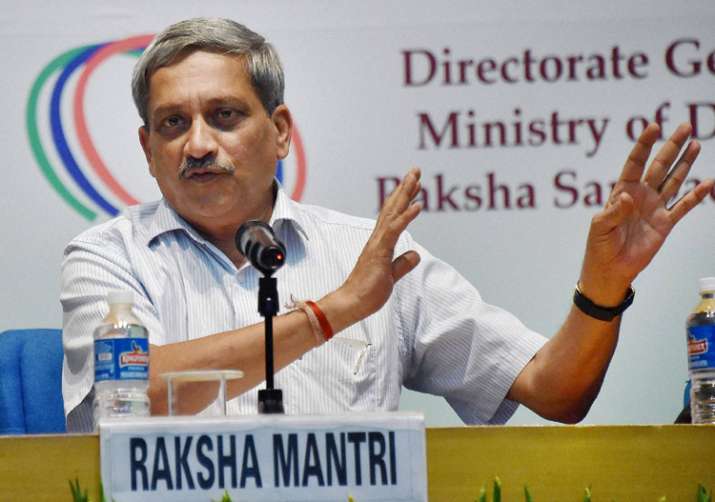 Defence Minister Manohar Parrikar on Tuesday said that the Narendra Modi–led NDA government aims to achieve a $2 billion (Rs 13,600 crore) defence export target by the end of its term in May 2019.  
Addressing the Swachhta Pakhwada in Delhi, Parrikar added that the acquisition of defence equipment including rifles for the Army has also been put on fast-track.  
Responding to a question on whether the government intends to go in for deep selection and setting aside seniority principle when it comes to selection of service chiefs, the minister said that due procedures were "perfectly followed" by the government in appointing the new Army Chief. 
He said that if seniority were the only criterion, then a computer could have selected service chiefs based on date of birth. 
He added there would not have been need of any due process or Cabinet Committee for Appointment if seniority alone was the criterion. 
"First of all, I do not know where there is principle of seniority. There is a procedure set wherein all commanders are verified for their performance. I can assure you that those who were considered were all good. Too good and probably that is the reason why we could not take decision early," Parrikar said in a press conference here. 
The government has last month selected Gen Bipin Rawat as the new army chief superseding two other officers - Lt Gen Praveen Bakshi and Lt Gen P M Hariz - breaking away from the tradition of seniority principle since 1983. 
"They are all good, capable. Circumstances probably required this selection...if you go by seniority principle then there would be no requirement of any procedure. 
"There would be no requirement of any Raksha Mantri, there would no requirement of Cabinet Committee on Appointment because then it is a computer job. Date of birth decides who becomes General," he said. 
He questioned why the government needs to spend 4-5 months studying the profile of officers, taking Intelligence Bureau reports among others. 
"I can tell you this much that procedure has been perfectly followed as laid down. You can read the procedure. No procedural violation has taken place," Parrikar said. 
Speaking on India's defence relationship with Russia, Parrikar said it was much better than it was two years ago. 
India to select one more single engine fighter than Tejas 
Cutting down competition as of now to just two fighters - F-16 by Lockheed Martin and Gripen by Saab the Defence Minister said India will select one more single engine aircraft other than Tejas for indigenous manufacture under 'Make in India' route. 
His making it clear that the aircraft would be single engine means that double engine aircraft like F/A 18 by Boeing and Rafale by Dassault Aviation, both preparing for India's next round of multi-billion deal for fighters, are out of the race. 
Just-retired IAF chief Arup Raha had said India required about 200 medium weight category aircraft besides the 36 Rafale fighters. 
Parrikar also made it clear that navy will continue supporting the development of naval version of Tejas but the current one will be just a technology demonstrator. He said that the navy is seeking a double engine aircraft. 
He said when India decides to go for a twin-engine fighter to be made here, the government will also consider the Rafale. 
But as of now there are no plans to procure any additional aircraft, he added. 
Talking about the next fighter competition of India, Parrikar said the need for a second production line for single engine aircraft is felt besides the one for Tejas. 
"The second line of single engine requirement is also felt for which we are thinking of using the strategic partnership route," he said. 
The Defence Minister said once the chapter on strategic partnership is finalised this month, his ministry will start moving in the direction of single engine fighter aircraft.
He said by the end of this year, decisions on the next aircraft should be tentatively finished. 
Parrikar said few of the initial aircraft may come off the shelf by the "rest would be made in India increasing the Indian capability in aviation". 
He said the process for the next fighter aircraft will include both selection through normal process and government- to-government contract. 
"Selection of the local partner would be through a transparent and well defined process," he said, adding that capabilities and financial strength would also be looked into. "Once you select the local partner, the OEM obviously will be selected through a process of the way we do it. It means who gives the best offer, Transfer of Technology and many other things and price. There will be weightage to both to both," he said. 
Parrikar added that once the company is selected, there will be a government-to-government contract to ensure that the other government stands guarantee to the promises made by the firm in terms of technology transfer and other issues. 
(With PTI inputs)