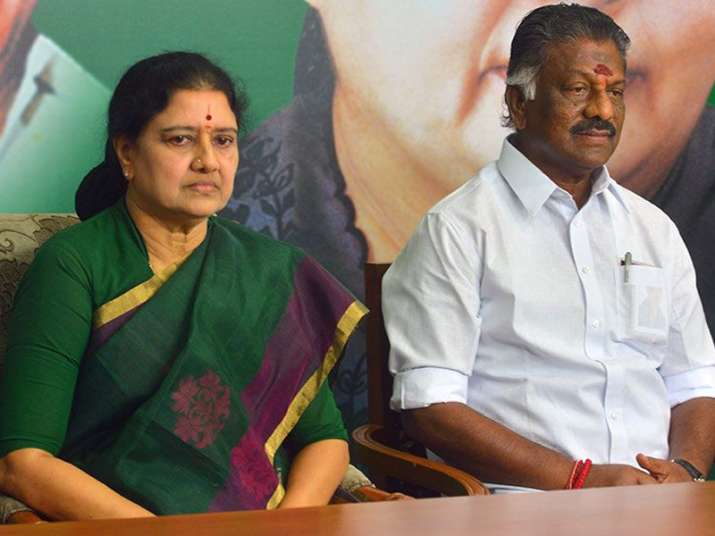 AIADMK MLAs from both factions, one led by jailed leader Sasikala and the other by former CM O P Panneerselvam, were today holding informal meetings to arrive at a formula for a possible merger. 
According to party sources, an MLA from Sasikala camp, who was on board the INS Chennai, said there are likely to be formal meetings on the matter later today. 
On Panneerselvam's demand for ending family rule by Sasikala of AIADMK (Amma) and Deputy General Secretary TTV  Dhinakaran, her nephew, the MLA said the senior leaders would  have to decide on any such issue. 
Last night, AIADMK ministers and OPS camp leaders had met here to discuss the merger of the two groups. It is said that the focus of yesterday's meeting was to discuss the possible resignation of Sasikala and her nephew TTV Dinakaran and chalk out a strategy for a merger to put an end to the political crisis.
However, Finance Minister Jayakumar said there was no such development regarding demands for removal of Sasikala and Dhinakaran from the party posts. 
'Split temporary'
Commercial Taxes Minister KC Veeramani said that the split in the party ranks was 'temporary'. 
"Some good news could come in hours," Veeramani said, indicating the next course of action on possible merger of the two factions. However, he did not elaborate. 
But, sources in the Panneerselvam camp said that none from the rival side had so far approached them for talks. 
AIADMK (Amma) Presidium Chairman and Higher Education Minister KA Sengottaiyan and Environment Minister Dindigul C Srinivasan held discussions with Chief Minister K Palaniswami. 
This comes a day after their senior cabinet colleagues discussed the modalities of a merger, placing the focus on redeeming the party's frozen 'Two Leaves' symbol. The Chief Minister was not present during the meeting late last night to discuss the matter. 
This morning, Srinivasan and Sengottaiyan met Dhinakaran, who returned from Bengaluru without meeting his aunt Sasikala. Dhinakaran is also facing heat from the Delhi Police for allegedly attempting to bribe an Election Commission official to retain the original party symbol. 
The AIADMK suffered a vertical split on February 7 when Panneerselvam alleged that he was forced by Sasikala to make way for her elevation as Chief Minister. This was two months after her appointment as AIADMK General Secretary following then Chief Minister J Jayalalithaa's death. The late leader was then chief of the party. 
The two factions had since staked claim to the 'Two Leaves' symbol which the Election Commission subsequently froze. Last night, some of the ministers met at the residence of Electricity minister P Thangamani where they discussed the modalities of a patch-up.
With PTI Inputs