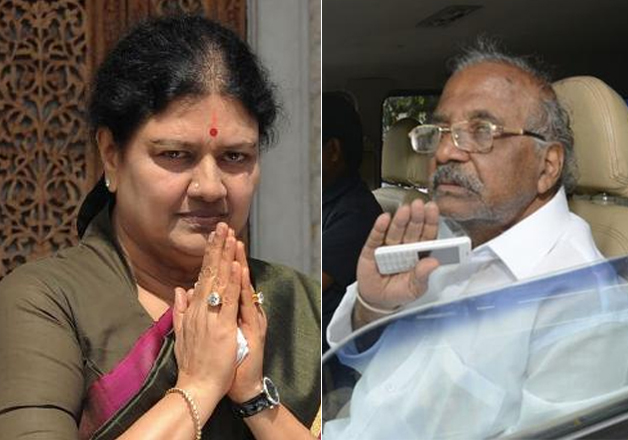 AIADMK supremo VK Sasikla today sacked presidium chairman and party's second-in-command E Madusudanan from the party's primary membership, a day after he joined caretaker Chief Minister O Pannnerselvam's camp.
At the same time, she appointed former minister KA Senkottaiyan as presidium chairman of the party, PTI reported.
In a statement issued here, Sasikala said that Madhusudanan violated the party's principles and brought disrepute to it and so was being ousted from the party post and the AIADMK's primary membership.
She also urged party members not to have any truck with Madhusudanan.
The dismissal came a day after Madhusudanan joined hands with Panneerselvam, who has revolted against Sasikala by saying that he quit as Chief Minister under pressure.
The development also comes close on the heels of Madhusudanan's petition to the Election Commission urging not to recognise Sasikala as general secretary of Tamil Nadu's ruling party.
Madhusudanan argued that Sasikala was not a party member for a continuous five years and hence she was not qualified to be the General Secretary.

 

"As per the party by-law, a person can become general secretary of AIADMK only if he/she is a member for a continuous period of five years," Madhusudanan said.
Earlier this week, Sasikala had sacked O Pannerselvam from the party's treasurer post for indulging in anti-party activities. He had, however, refused to accept the decision and even wrote to banks to seek his consent before allowing anyone to access the AIADMK's funds.
In December, after then Chief Minister Jayalalithaa's demise, Sasikala was elected the general secretary at a general council meeting of the AIADMK.