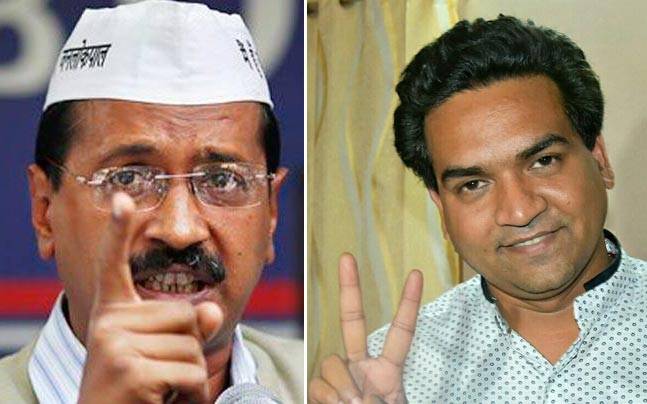 Suspended Aam Aadmi Party (AAP) legislator Kapil Mishra on Saturday claimed to have accessed an internal survey of the party that shows Arvind Kejriwal's outfit is not confident of winning back any of the 20 seats if by-polls were held. 
Mishra's claim comes as uncertainty lurks over the fate of 20 AAP MLAs in the wake of the Election Commission recommending their disqualification in the "Office of Profit" case. 
The Election Commission of India on Friday had recommended to the President the disqualification of 20 Aam Aadmi Party (AAP) legislators who were appointed as parliamentary secretaries by the Arvind Kejriwal government in Delhi. 
According to Mishra, an internal survey report was submitted to Delhi Chief Minister Arvind Kejriwal on Friday with details about Aam Aadmi Party's prospects in the constituencies represented by the MLAs facing disqualification.
Mishra claimed that according to "AAP internal survey submitted to Kejriwal yesterday", the ruling party in Delhi was "surely losing -11 seats…in the fight, if candidate changed (on) - 09 seats" while "surely winning - 00 seat".
EXPLOSIVE AND EXCLUSIVE

AAP internal survey submitted to Kejriwal yesterday.

Surely losing -11 Seats

"in the fight" if candidate changed - 09 Seats

Surely Winning - 00 Seat

Recommends 12 ticket change including Alka Lamba, Adarsh Shastri, Sarita Singh, Praveen Deshmukh pic.twitter.com/SlXlP4N1am

— Kapil Mishra (@KapilMishra_IND) January 20, 2018
He also claimed that the internal survey report "recommends 12 ticket change including (those of) Alka Lamba, Adarsh Shastri, Sarita Singh (and) Praveen Deshmukh".
The Delhi High Court had also refused to pass any interim order of protection to the AAP MLAs, Friday late evening.
During the hearing, the court made it clear that it was not inclined to pass any interim order in view of the conduct of the MLAs in the proceedings before the poll panel. It was displeased by the MLAs' conduct of telling the poll panel not to go ahead with the matter as the issue has been challenged in the High Court. 
"You don't have a stay from the high court, but you tell the ECI that it should not touch the matter as the high court is seized of the matter. Your conduct is such that you do not care to go before the ECI. The high court did not prevent you from going before the ECI," the judge said and added, "you have used the pendency of your pleas in the high court as a shield". 
The court was referring to the MLAs' petitions filed in August last year challenging the poll panel's decision to continue hearing a complaint against them for allegedly holding office of profit. 
Advocate Manish Vashishth, appearing for one of the disqualified MLAs, Sharad Kumar, told the court that the poll panel has not heard them before arriving at the decision to disqualify them. He also said that till date, the ECI has not filed its reply to their petitions filed in August last year.
WATCH FULL VIDEO: