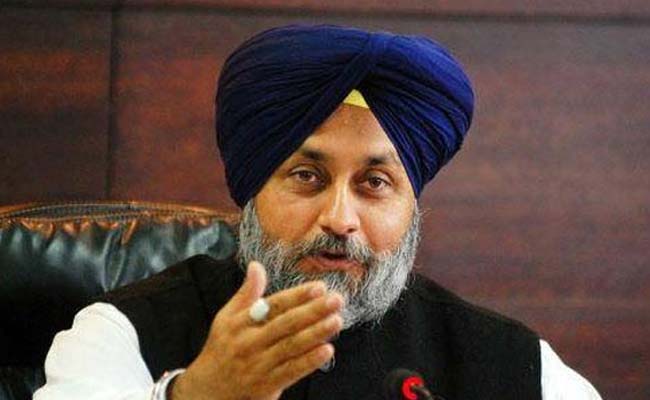 The Aam Aadmi Party (AAP) today Punjab blamed Deputy Chief Minister Sukhbir Badal for the bomb blast at Maur Mandi on Tuesday and urged the Election Commission (EC) to facilitate his arrest.
AAP General Secretary Sanjay Singh said that Sukhbir Badal's arrest was essential to ensure peaceful Assembly elections in Punjab on February 4.
Singh met Punjab Chief Electoral Officer V.K. Singh in Chandigarh and sought the panel's intervention.
"AAP has given a complaint against Sukhbir Badal to the Election Commission, seeking his arrest and interrogation," Singh told the media here. 
"We have no doubt that the frustrated SAD and Congress were behind incidents of violence and they can commit any heinous crime to disturb the election process," he said.
He said that Akali Dal and Congress leaders were hand in glove to create a tense atmosphere in the state.
Sanjay Singh said the Punjab government had failed to solve any of the sacrilege cases of Guru Granth Sahib, high-profile murders in Jalandhar and Ludhiana and the Nabha jailbreak by gangsters.
The death toll in Tuesday evening's car bomb blast near Bathinda city rose to five on Wednesday with two more children who were seriously injured succumbing to their injuries. The victims include two men and three children.
Earlier, Delhi Chief Minister Arvind Kejriwal demanded the arrest of Sukhbir Badal, son of Chief Minister Parkash Singh Badal and also the Home Minister.
"To ensure peaceful elections, Sukhbir Badal should be immediately arrested. His role in (the) blast be probed. He will cause more violence," the AAP leader tweeted.
"Sukhbir Badal is a hardened criminal who will go to any extent to ruin Punjab and its peace. Election Commission MUST arrest him to ensure peaceful elections," added Kejriwal, who is campaigning in Punjab.
The AAP, the Congress and the ruling Akali Dal-BJP alliance are the major contenders for power in Punjab.
(With IANS inpus)