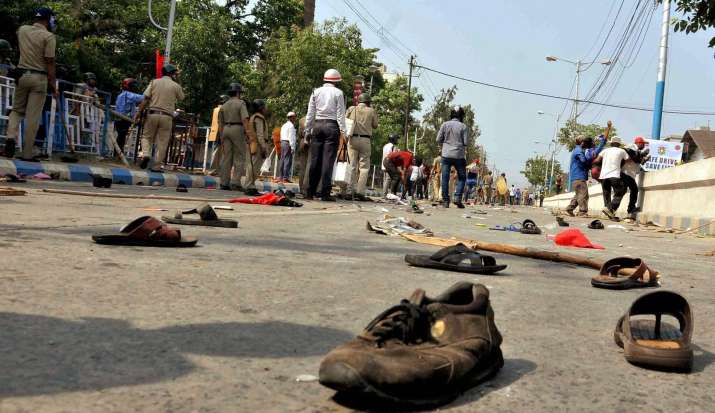 Over 100 Left activists and 79 police personnel were injured in clashes on Monday at various places in the city and neighbouring Howrah during a protest march by the opposition party to the state secretariat against the Trinamool Congress government's policies
217 people, including 11 Left MLAs, were arrested in the twin cities and at the secretariat in connection with the violence and violation of prohibitory orders during the agitation
Police fired tear gas shells and used batons after the Left workers allegedly tried to break barricades at several places and attacked the security personnel
The violence triggered a war of words between the ruling Trinamool Congress and the Left, which alleged that the "unprovoked" police action was on the instruction of Chief Minister Mamata Banerjee and announced that a protest day will be observed tomorrow
Trinamool Congress secretary general Partha Chatterjee called the Left protest a "drama" and said it was nothing but an attempt by the CPI-M, "which has been reduced to a signboard", to justify its existence
The 'March to Nabanna (secretariat)' was organised by the Left parties to protest against what they called attack on democracy, unemployment and lawlessness in the state during Trinamool Congress rule
Joint Commissioner of city police (HQ) Supratim Sarkar told reporters here that as many as 182 people, including 45 women were arrested in connection with the violence in Kolkata
A top state police officer said Howrah police arrested 24 Left activists and 11 MLAs including Sujan Chakraborty, Ashok Bhattacharya and Tanmay Bhattacharjee, Anisur Rehaman, Manas Mukherjee. Ten district police personnel were injured while trying to prevent the Left agitators from marching to the high-security secretariat
The Left leaders who were in three cars had managed to cross the security cordon but police recognised them at the north gate of the secretariat and sought to know from them the purpose of their visit. A scuffle then took place between the Left leaders and the police there, he said
"The Left leaders and others were arrested as they had breached Section 144 CRPC which was in force around the secretariat.
"The Left leaders had launched unprovoked attack on our forces injuring them in the process," he said on condition of anonymity
Twenty Left activists and MLAs were detained in the morning and taken to Shibpur police station in Howrah where they were arrested. Another 15 Left activists were later arrested from the secretariat area
The Left activists tried to break police cordons at various locations including Mayo Road, Dufferin road, Hastings in the city and Foreshore Road and Santragachi in Howrah
They allegedly hurled stones at the police prompting the personnel to fire tear gas shells and order lathi charge
Water cannons were also used to disperse the workers at Santragachi in Howrah
Sarkar said "the Left organisers had promised us that there will be no violence and they will go for sit-in demonstration wherever the police stopped them
"But they attacked the police which resorted to baton charge and firing of tear gas shells to disperse the protesters," he said
The joint commissioner said that according to reports available with the police, over 100 left activists were injured
Left party sources on the other hand said many of their leaders including former state minister Kanti Ganguly, Foward Bloc leader Naren Chatterjee and hundreds of workers were injured when the police resorted to the "unprovoked batoncharge." 
Some journalists covering the programme were allegedly beaten up by the police, for which Sarkar expressed "regrets"
When asked, he said that the incident was "undesirable". "We will look into it and investigate. If proved correct, departmental action will be taken against the responsible police personnel"
Chief Minister Mamata Banerjee was not present at the secretariat as she was in Birbhum district for an administrative meeting
CPI-M state secretary and politburo member Surjya Kanta Mishra and Left Front chairman Biman Bose staged a sit-in at Mayo Road in protest against the police action
Claiming that their programme was a success, Mishra said, "Everything (Police action) is being done according to the chief minister's instruction. But they (the TMC government) cannot stop us this way. A protest day will be observed tomorrow throughout the state." 
Trinamool Congress secretary general Partha Chatterjee hit back, saying "they (CPI-M) do not work for the state. They are holding this programme when the chief minister is trying to develop the state.