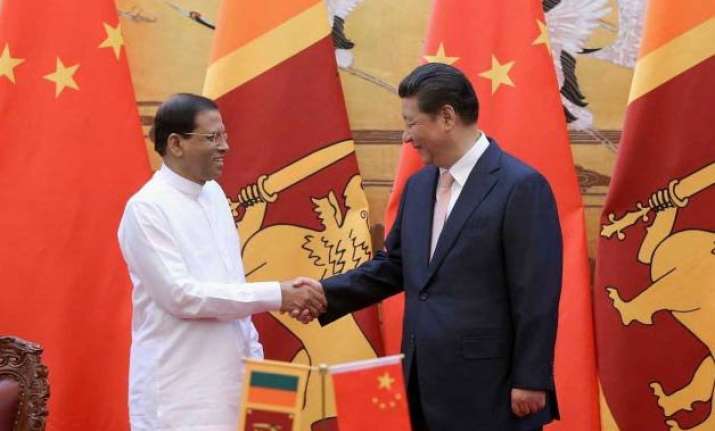 Beijing: The Chinese and Sri Lankan presidents today discussed prospects of trilateral cooperation with India to address New Delhi's security concerns in the Indian Ocean besides ways to boost defence cooperation including personnel training and providing military hardware to Colombo.
Making his first visit to China to re-balance pro-Beijing policies pursued by the previous Mahinda Rajapaksa regime, new Sri Lankan President Maithripala Sirisena held talks for over an hour with his Chinese counterpart Xi Jinping here today.
Xi and Sirisena discussed trilateral cooperation between India, China and Sri Lanka mooted by Beijing recently in an apparent bid to address New Delhi's reservations over MSR and its implications for India's security, especially after two Chinese submarines docked in Colombo harbour last year.
"The two leaders also agreed to strengthen trilateral cooperation between China, Sri Lanka and India," Chinese Assistant Foreign Minister Liu Jianchao told the media after the talks.
"The three are all important countries in the region. It will be really beneficial for the three counties to have cooperation in the areas like economic and social development. It is part of the China and South Asia cooperation," he said.
Asked whether it was discussed during State Councillor Yang Jiechi's just-concluded visit to India to take part in the border talks, he said "they touched upon the China-South Asia cooperation".
"They had general discussions on China, South Asia relationship," he said referring to Yang's talks in New Delhi.
China proposed the trilateral cooperation after the fall of the Rajapaksa government.
Sirisena also said he hoped to continue with the controversial USD 1.5 billion Colombo Port City project after investigations into environmental and corruption issues.
"Sirisena stressed that what happened around the Port City project was rather temporary," Liu said.
Sirisena told Xi that "problem does not lie with Chinese side and hoped to continue with the project after things are sorted out," Liu said adding that China believes it is a very good project and benefits not only Chinese but Sri Lankans as well in terms of development and job creation.
But the project stated to be key to Xi's ambitious 21st century Maritime Silk Road (MSR) project in the Indian Ocean, stands suspended until the new government reviews its licenses and probes allegations of corruption by the previous government of Rajapaksa.
Reports say that Sirisena's government is trying to renegotiate the 575-acre project to be built on reclaimed land in front of Colombo's Galle Face green, part of which will be given to a state-owned Chinese firm on a 99-year lease, in effect making it a Chinese property.
Sirisena is on a four-day visit with a high-level delegation which includes Foreign Minister Mangala Samaraweera, Finance Minister Ravi Karunanyake besides Urban Development Minister Rauff Hakeem and several others.
Significantly, the delegation includes former Sri Lankan army chief Sarath Fonseka who was recently appointed Field Marshal, five years after he was jailed by Rajapaksa for treason. Fonseka was dressed in traditional Sri Lankan attire.
Liu said both presidents also discussed defence cooperation which included personnel training and providing military equipment to Sri Lanka.
Also significantly, Xi said all the Chinese-funded projects in Sri Lanka can be shifted under the framework of the MSR bringing under the purview of USD 40 billion Silk Road fund announced by China.
Xi also proposed that the two sides fully utilise the Silk Road fund and finance resources of the USD 50 billion Asian Infrastructure Investment Bank (AIIB) to pursue the major projects within the framework of the MSR, Liu said.
"They can be brought under MSR which means that they can have further finance sources. If it is put in the framework it is a good idea," Liu said.
It is not clear whether the shifting of the projects worth about USD 5 billion addresses Sri Lanka's concerns that the loans carried heavy interest rates.
Asked whether Sri Lanka concerns over the interest rates figured in the talks Liu said "they did not go that far and it is a decision that should be made by the Chinese companies".
The two sides signed four agreements including Chinese assistance to public health in Sri Lanka, providing magnetic resonance scanner, feasibility study to renovate the island's superior courts and an MoU between the Chinese Academy of Sciences and Sri Lanka's Urban Development, Water supply and Drainage ministry.
Sirisena, who also met Premier Li Keqiang, would travel to the Chinese island of Sanya tomorrow to attend the Boao Forum for Asia.