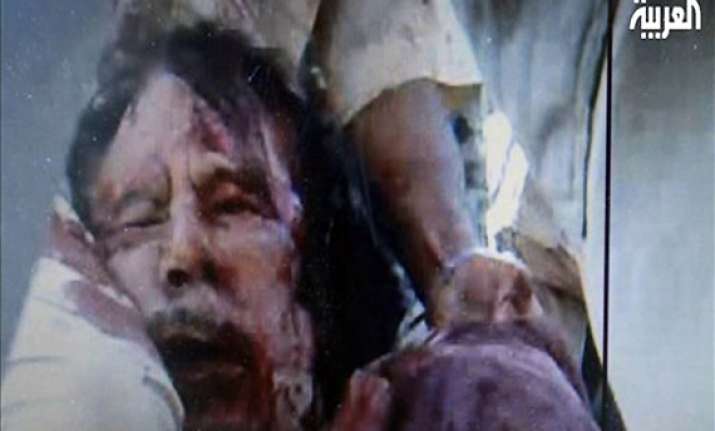 Rome, Oct 20: World leaders greeted the death of former Libyan strongman Muammar Gaddafi today as the end of despotism, tyranny, dictatorship and ultimately war in the north African country.

As Libyans on the streets of Tripoli and Sirte fired automatic weapons into the air and danced for joy, the death of the man who had ruled the oil-rich north African nation for 42 years was widely welcomed.

British Prime Minister David Cameron said Gaddafi death was an occasion to remember his victims, while hailing it as a chance for a "democratic future" for Libya. 

"I think today is a day to remember all of Colonel Gaddafi's victims" including those who died in the 1988 bombing of a Pan Am jet over the Scottish town of Lockerbie, Cameron said in a statement outside his office. 

French President Nicolas Sarkozy hailed the death of Gaddafi as a major step forward for the people of Libya and urged the country to pursue democratic reforms. 

"The disappearance of Moamer Kadhafi is a major step forward in the battle fought for more than eight months by the Libyan people to liberate themselves from the dictatorial and violent regime imposed on them for more than 40 years," Sarkozy said in a statement in Paris.

In Rome, Libya's former colonial ruler, Italian Prime Minister Silvio Berlusconi said after the death of his onetime ally: "Now the war is over."

"Sic transit gloria mundi (Thus passes the glory of the world)," Berlusconi said, quoting a Latin tag.  In Brussels, the European Union said Gaddafi's death "marks the end of an era of despotism". 

The news means an end also to the "repression from which the Libyan people have suffered for too long", EU president Herman Van Rompuy said in a joint statement with European Commission president Jose Manuel Barroso.