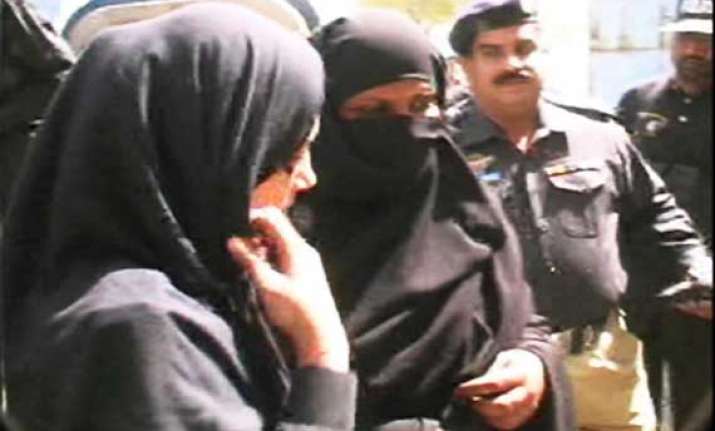 Islamabad, Jun 7: Two of the four women condemned to death by a tribal jirga in northern Pakistan for allegedly mingling with men and singing at a wedding are alive and well, rights activists told the Supreme Court today. 
Two of the women were traced in remote Sertay village in Kohistan region of Khyber-Pakhtunkhwa province and they were unharmed, rights activists Fouzia Saeed and Farzana Bari and officials informed the apex court.
Bari, who was part of an official team that was airlifted to the region by helicopter, met the two women,officials said.  
A tribal jirga or council had sentenced four women and two men to death after they were filmed singing and dancing at a wedding in Kohistan, 175 km from Islamabad. Local tribal customs forbid the mingling of men and women.  
A brother of one of the condemned men had claimed the women had been killed, following which the apex court took suo moto notice of the matter.
However, footage beamed on TV news channels does not show the men and women together. The women are shown clapping while seated while the men can be seen dancing.  
During today's proceedings in the Supreme Court, a senior official from Khyber-Pakhtunkhwa told the bench headed by Chief Justice Iftikhar Chaudhry that the rights activists had confirmed that at least two of the women were alive.  
However, their families would not allow them to travel to appear in person in the apex court, the official said.
The bench had directed authorities to present the women before it.  Rights activist Fouzia Saeed said the team had identified the two women from photos derived from the video footage.  
The Chief Justice said he would call in the army to probe the issue if provincial authorities were unable to get to the bottom of the matter.
"We are even ready to provide you troops... Delay will not help the operation. Either the girls will escape or be killed," he observed.
Police have said the emergence of the video was linked to rivalry between tribal groups.