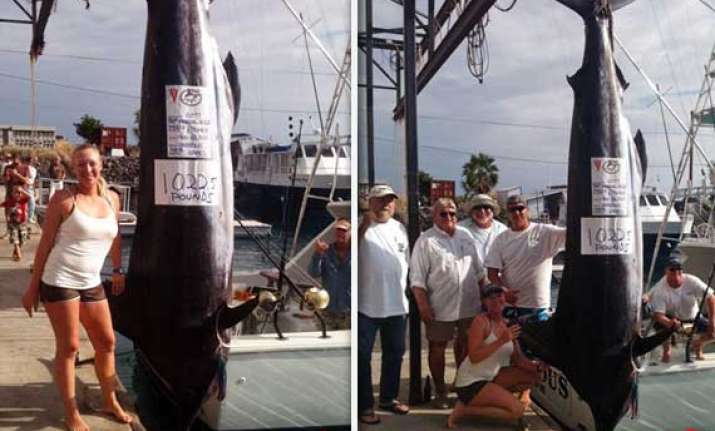 Honolulu, Aug 24: A woman tournament fishing in Hawaii waters fought a 12-foot marlin more than four hours before getting it on her team's boat and weighing it at more than a half-ton - a would-be world record.
But 28-year-old Molly Palmer ended up missing out on thousands of dollars in prize money as she needed to reel in the fish by herself in order for it to qualify as a valid catch according to the rules set by the International Game Fishing Association.
Palmer's fish weighed in at 1,022.5 pounds (463 kilograms) which is well over the record of 950 pounds (428 kg) for a woman using a 130-pound (54 kg) line.
She made the incredible catch at the Big Island Invitational Marlin Tournament which her captain and crewmates paid 9-thousand US dollars to enter.
The competition runs on an honour code, and whilst it would have been easy for Palmer to cheat, she said it wasn't her motivation for taking part in the tournament.
So Palmer and her team disqualified themselves and helped her to pull the monstrous fish aboard.
The battle then became about whether the boat could position itself to give Palmer enough leverage to reel it in.
Palmer didn't want to give up, but the fish stayed in deep waters and eventually died on the line, drifting directly below the ship.
Angling is as much about math and physics as the open-water adventure.
Palmer, at 160 pounds (72 kg), needed to get the Marlin, which was more than six times her weight, positioned higher in the water to make it easier for her to reel in her line without attracting sharks or breaking the line or any of the boat's equipment.
Most of the fish caught during the three-day tournament were released, while those that died will be sold at market for seafood and marlin jerky.