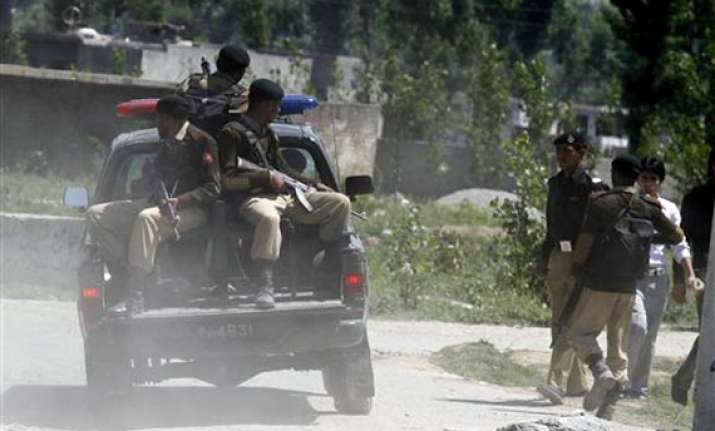 Islamabad, May 2: Ever since the 9/11 attacks, Pakistani leaders have been vehemently denying the presence of al-Qaeda chief Osama bin Laden in their country.

However, US President Obama shamed them today when he announced that bin Laden, the world's most wanted man, had been killed at a compound in the Pakistan city of Abbottabad, close to a military academy.

Top Pakistani leaders, including President Asif Ali Zardari, Prime Minister Yousuf Raza Gilani, Interior Minister Rahman Mallik and even ex-military ruler Pervez Musharraf had repeatedly denied US intelligence that bin Laden was present in the country.

In an interview to BBC in September 2009, Zardari had said that he thought Osama was dead.

On Osama, Pakistan President, however, did not put forward any evidence or details in support of his claim that world's most wanted terrorist was no longer alive.

His remarks on Osama being dead run contrary to American belief that al-Qaida chief is alive and is hiding in Pakistan's restive tribal areas bordering Afghanistan.

Gilani, who was pressed by then British Prime Minister Gordon Brown in December 2009 to act againt bin Laden, had said that his country had not received any credible intelligence on the whereabouts of the (al Qaeda) terror network's leaders.

"I doubt the information which you are giving is correct because I don't think Osama bin Laden is in Pakistan," he had said.

Apart from telling them that Afghan police were fighting alongside terrorists in Pakistan, Interior Minister Rehman Malik also told the Americans in September 2009 that Osama Bin Laden could be in Iran, Saudi Arabia or Yemen.

According to leaked US diplomatic cables, Malik told Americans that Osama Bin Laden could be in Iran, Saudi Arabia and Yemen or might be dead.

"Representative Gabrielle Giffords asked Malik whether he had information about the whereabouts of Osama Bin Laden. Malik responded that he "had no clue," but added that he did not believe that Bin Laden is in the area.

Pakistan is not specifically looking for Al-Qaeda leader Osama bin Laden, as there is no proof he is in Pakistan, former President Musharraf had said in an interview in January 2008.

"We are not particularly looking for him, but we are operating against terrorists and Al-Qaeda and militant Taliban. And in the process, obviously, combined, maybe we are looking for him also," Musharraf told CBS television.

Asked what Pakistan was doing to find the mastermind of the September 11, 2001 attacks, Musharraf had said it was fighting extremism and terrorism.

"We are fighting first of all Al-Qaeda. Let's take Al -Qaeda. We have arrested or eliminated about 700 Al-Qaeda leaders ... which other country has done this?"

In what could come as a big embarrassment for Pakistan's powerful army chief General Ashfaq Pervez Kayani, al-Qaeda chief Osama Bin Laden was killed just yards from a military compound that he visited last month where he had famously claimed that his forces had broken the "terrorist backbone".

"The terrorist backbone has been broken and Inshaallah we will soon prevail," Kayani said in his address at a passing out parade at the Pakistan Military Academy at Kakul on April 23 in Khyber-Pakhtunkhwa province.

Incidentally, Osama was today killed in a highly secured compound just 800 yards away from the academy by the US special forces' personnel.

Kayani's comments had come days after Admiral Mike Mullen, America's top military official, warned that the ISI's longstanding links with the Haqqani militant network are at the core of Pakistan's strained and problematic relations with the United States.

Bin Laden was shot dead in a pre-dawn helicopter-borne razor-sharp operation today in a house just yards from the military academy in Abbottabad town, raising questions whether spy agency ISI knew his whereabouts.

The dreaded terror threat was found living in a fortress-like two-storey house, almost next door to Pakistan's Kakul Military Academy, which is home to army's three regiments and far away from remote mountain caves where most intelligence estimates put him in recent years.

US authorities had been keeping a watch over the compound since August. ISI's possible knowledge of bin Laden's wherebouts was also raised by a leading US daily.

"The killing of Osama bin Laden deep inside Pakistan in an American operation, almost in plain sight in a medium-sized city that hosts numerous Pakistani forces, seems certain to further inflame tensions between the United States and Pakistan and raise significant questions about whether elements of the Pakistani spy agency knew the whereabouts of the leader of Al Qaeda," the New York Times said.