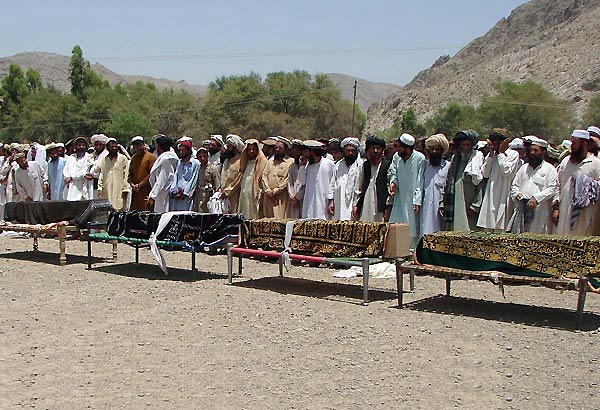 Islamabad, Aug 16 : In a pre-dawn strike, a US drone today fired missiles at a compound and a vehicle in Pakistan's restive North Waziristan tribal region infested by Taliban and al-Qaeda-linked terrorists, killing at least four militants and injuring two others.

The CIA-operated spy plane fired two missiles at the compound and the vehicle parked outside it in Miranshah, the main town in North Waziristan tribal agency.

Four militants were killed and two others injured, TV news channels quoted officials as saying.  The compound targeted by the drone was located near a girls' school.

The drone struck before dawn, when people were having 'sehri', the meal that marks the beginning of the fast during the Islamic holy month of Ramzan.

Militants cordoned off the compound and began removing the rubble, local residents said.

They did not allow anyone to approach the site.  Sources said those killed belonged to a Taliban faction led by Hafiz Gul Bahadur. It was not known if any high-value target was among those killed.

Residents said they had heard the sounds of the pilotless aircraft before the strike.

Some spy planes were seen flying over the area after the strike.

This was the second US drone strike in North Waziristan in a week.

A missile strike on August 10 had killed 25 suspected militants, including foreigners, when a house and a vehicle were targeted.

Drone strikes have caused a rift between Pakistan and the US, with Islamabad publicly opposing the campaign, but Washington has ruled out any change.
Tribesmen and rights groups insist civilians are regularly killed in the strikes.

After tacitly backing the drone campaign for years, Pakistan now says it is counter-productive for the war against terrorism.

Today's attack came a day after the American media reported that the US had attached fresh conditions to Pakistan's military aid.

The US wants Pakistan to take more steps against militants, help in the war in Afghanistan, cooperate in investigating the compound where Osama bin Laden was killed on May 2 and take steps to improve bilateral relations.

Pakistan recently slapped travel curbs on US diplomats and they are now required to get "no-objection certificates" for travelling within the country. PTI