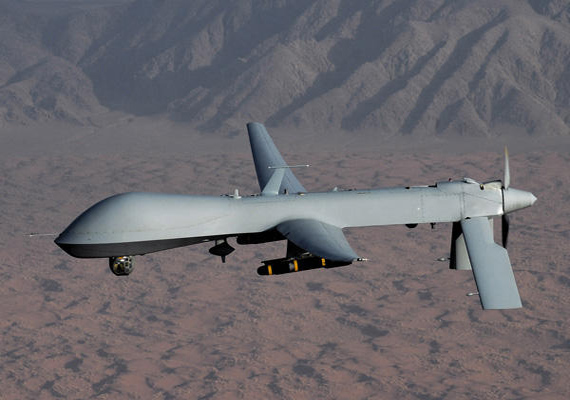 Islamabad, Feb 26 : A US drone has crashed in the volatile North Waziristan tribal region of Pakistan, apparently due to a technical problem, officials said today. 
The CIA-operated unmanned spy plane came down in the mountainous Machikhel area, 30 km from Miranshah, the main town of North Waziristan Agency.

The region has witnessed frequent drone strikes against Taliban and al-Qaeda elements in the past few years. 
There was no word from the US on the incident though unnamed Pakistani officials were quoted by TV news channels as saying that the drone apparently crashed due to a technical problem.

The site where the drone came down was surrounded by Taliban fighters, who took away parts of the spy plane.  Western media reports said US officials had denied claims by the Taliban that the drone was shot down by militants. 

US President Barack Obama last month confirmed for the first time that US drones target Taliban and Al Qaeda elements in Pakistan's restive tribal belt bordering Afghanistan. 
North Waziristan Agency has witnessed several drone attacks this month and Badar Mansoor, described as a key link between Al Qaeda and the Pakistani Taliban, was killed in a recent missile strike in the region.

US and Afghan officials have described North Waziristan Agency as a "safe haven" for al-Qaeda and Taliban elements,including the Haqqani network that targets US and foreign troops across the border in Afghanistan.