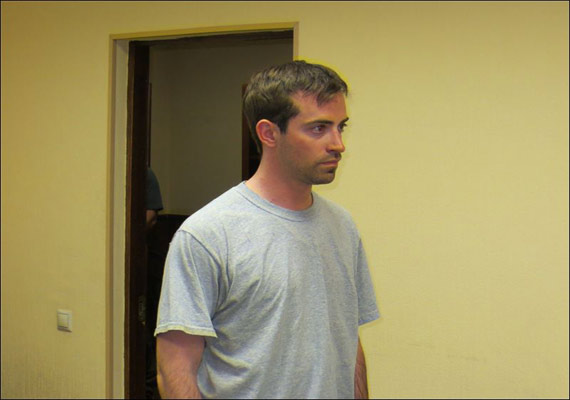 Moscow, May 15: A US diplomat disguised in a blond wig was caught trying to recruit Russian counter-intelligence officer in Moscow, Russia's security services announced on Tuesday, claiming the American was a CIA officer.
Ryan Fogle, a third secretary at the US Embassy in Moscow, was carrying special technical equipment, disguises, written instructions and a large sum of money when he was detained overnight, Russia's Federal Security Service said.
In Washington, State Department spokesman Patrick Ventrell confirmed to a news briefing that "an officer in our US Embassy in Moscow was briefly detained and was released".
The FSB, the successor agency to the Soviet-era KGB, said Fogle was trying to recruit a Russian counter-terrorism officer who specialises in the Caucasus, the volatile region in southern Russia where the two Boston Marathon bombing suspects have their ethnic roots.
Fogle, who was handed over to US Embassy officials, was declared persona non grata and ordered to leave Russia immediately, the Foreign Ministry said. He has diplomatic immunity, which protects him from arrest.
It was the first case of an American diplomat publicly accused of spying in about a decade and seemed certain to aggravate already strained relations between Russia and the United States.
The Foreign Ministry summoned US Ambassador Michael McFaul to appear on Wednesday in connection with the case.
McFaul, who was doing a question-and-answer session on Twitter when the detention was announced, said he would not comment on the spying allegation.
Russia's Caucasus region includes the provinces of Chechnya and Dagestan.
The suspects in the Boston Marathon bombings are ethnic Chechen brothers and the elder brother spent six months last year in Dagestan, now the centre of an Islamic insurgency.
US investigators have been working with the Russians to try to determine whether suspected Boston bomber Tamerlan Tsarnaev had established any contacts with the militants operating in Dagestan.
Russian officials expressed indignation on Tuesday that a US diplomat would carry out such an espionage operation at a time when the presidents of the two countries have pledged to improve counter-terrorism cooperation.
Despite the end of the Cold War, Russia and the United States still maintain active espionage operations against each other.
Last year, several Russians were convicted in separate cases of spying for the US and sentenced to lengthy prison sentences.
On Tuesday, Russian state television showed pictures of a man said to be Fogle, wearing a baseball cap and a blond wig, lying face down on the ground.
The man, without the wig, was also shown sitting at a desk in the offices of the FSB.
Two wigs, a compass, a map of Moscow, a pocket knife, three pairs of sunglasses and packages of 500 euro notes (649 US dollars each) were among the items the FSB displayed on a table.
The FSB also produced a typewritten letter that it described as instructions to the Russian agent who was the target of Fogle's alleged recruitment effort.
The letter, written in Russian and addressed "dear friend," offers 100,000 US dollars to "discuss your experience, expertise and cooperation" and up to 1 million US dollars a year for long-term cooperation.
The letter also includes instructions for opening a Gmail account to be used for communication and an address to write. It is signed "Your friends."
Little was immediately known about Fogle.
A third secretary is an entry level position at the State Department, the lowest diplomatic rank in the foreign service.