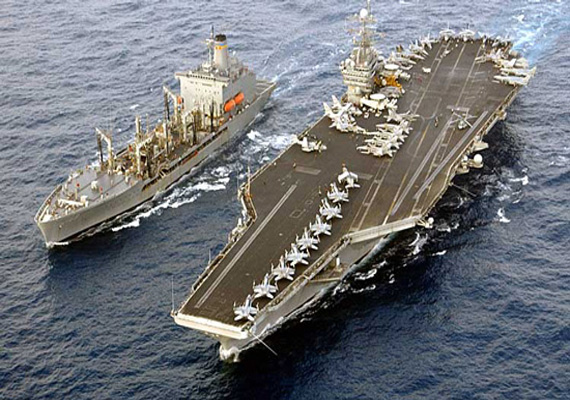 Washington, July 23: The US Navy has deployed the USS Harry S. Truman Carrier Strike Group to the Gulf region.
"The Harry S. Truman Carrier Strike Group is ready to deploy," Xinhua quoted Rear Adm. Kevin Sweeney, commander of the carrier strike group, as saying in a statement.
"We've worked very hard over the last several months to maintain our combat readiness following the delay of our deployment in February due to sequestration."
The strike group consists of approximately 6,000 sailors and Marines. Besides the USS Truman, it includes the destroyers USS Bulkeley and USS Mason, and the cruiser USS San Jacinto.
Carrier Air Wing 3 will be embarked onboard the Truman with three strike fighter squadrons, a Marine fighter attack squadron, airborne early warning aircraft, electronic attack aircraft and two helicopter squadrons.
They were scheduled to leave Naval Station Norfolk in Virginia Monday for an eight-to-nine month tour of duty in the Fifth and Sixth Fleet areas, which means Middle East, Mediterranean and Eastern Atlantic.
In addition, the guided-missile cruiser USS Gettysburg will deploy from Naval Station Mayport in Florida.
In February, the USS Truman was primed and ready to head the Middle East, but the navy cancelled the plan as automatic budget cuts known as sequestration forced a dramatic reshuffling of priorities.
The newly deployed carrier does not mean the US Navy will go back to fielding two carriers in the Gulf.
Automatic budget cuts will prevent the navy from returning a second aircraft carrier to the Gulf region in fiscal 2014, Admiral Jonathan Greenert, chief of naval operations, said last week.
The decision to forgo a second carrier next year came as Greenert reported an increase in piracy in the Gulf of Oman over the last eight months.
Greenert said he has seen no evidence that the reduced carrier presence has altered the activity of the Iranian Navy.
US Navy now has USS Nimitz in the Gulf region. Nimitz is conducting a tour of the Fifth and Seventh Fleet areas, which means the Middle East, Western Pacific and the Indian Ocean.