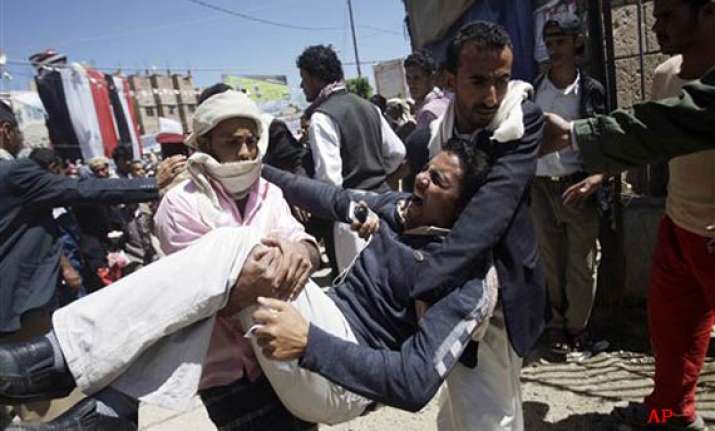 Sanaa, Oct 15 : At least 22 people were killed today as Yemeni police opened fire on protesters and rival tribes clashed in Sanaa, while a suspected US air raid took out nine, including top al-Qaeda leaders.

Police shot dead 12 people and injured dozens as they opened fire on demonstrators in Sanaa demanding President Ali Abdullah Saleh's resignation, medics said.  And barely two weeks after a drone killed US-born jihadist cleric Anwar al-Awlaqi, a suspected US air strike yesterday killed a raft of top al-Qaeda leaders, including the media chief of al-Qaeda in the Arabian Peninsula, Egyptian Ibrahim al-Banna'a.

Banna'a was "in charge of the media arm of AQAP"—the network's branch in Yemen—and one of the group's "most dangerous operatives," the Yemeni defence ministry said, denying as in past such cases that the raid was American.  The son of Awlaqi, Abderrahman, 21, was also among the nine dead in the strikes that hit the militant-held town of Azzan in Shabwa, a member of Awlaqi's tribe said.  Also killed was Sarhan al-Qussa'a, brother of Fahd al-Qussa'a, a leader of AQAP, who was on a US wanted list, the Awlaqi tribesman said.

Sanaa routinely denies that the United States carries out raids on its territory, insisting it plays a purely logistic and intelligence role in support of Yemen's own counter-terror operations.

But last month, The Washington Post reported that the United States was building an array of secret new drone bases to strike al-Qaeda targets in Yemen and Somalia.  On Monday, AQAP confirmed the death of Anwar al-Awlaqi in a US drone strike on September 30, and vowed revenge.