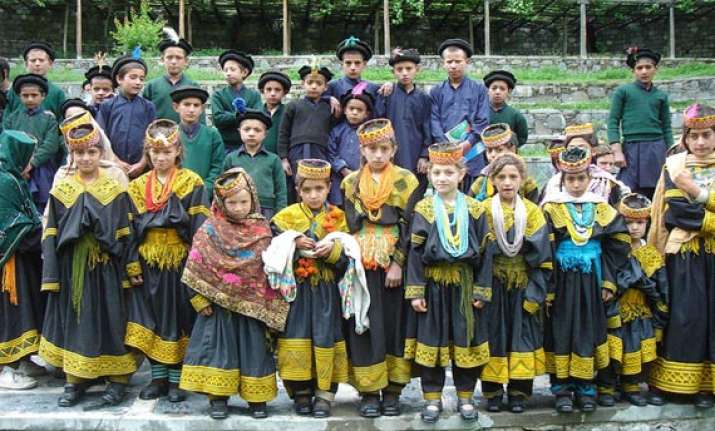 New Delhi: In the mountains of Chitral district in  Khyber-Pakhtunkhwa province of Pakistan, live Kalash people who look like Europeans.
They have blond hair and are blue eyed, somewhat an anomaly in Pakistan. 
Rumor has it that they are the descendants of the armies of Alexander the Great, the Greek emperor.
But there is no genetic evidence to link the Kalash people with the Greeks.  
Taking in to account genetic drift, it was then thought that the Kalash bloodline originated in Eastern Europe, the Middle East and the Caucasus.
However, another series of tests suggested that perhaps the Kalash are in fact aboriginal to the area with only negligible contributions from external peoples.  
In other words, the jury is still out as to where they actually come from but it might well be exactly where they are right now.
Their culture is different from Islamic culture and they are given protection by the Government of Pakistan. 
Kalash mythology and folklore has been compared to that of ancient Greece but they are much closer to Indo- Iranian culture.
The Kalash have fascinated anthropologists due to their unique culture compared to the rest in that region, similar to ancient Persians. 
Their language is Dardic, a suc brach of Indo- Iranian language, and a larger part of Indo-European family.
Their religion is similar to the religion practised by Rigvedic Aryans. They are adherents of Polytheism and believe in more than one God.  
As their numbers are very small, other cultures that surround them have had an impact.
Many of the Kalash tribals in two of the valleys have converted to Islam, probably around fifty percent. They still practise many of the traditional aspects of Kalash life though the non-converts call them 'sheiks'. 
Kalash women wear black robe embroidered with rainbow threads, a beaded headdress adorned with cowrie shells and colorful necklaces.