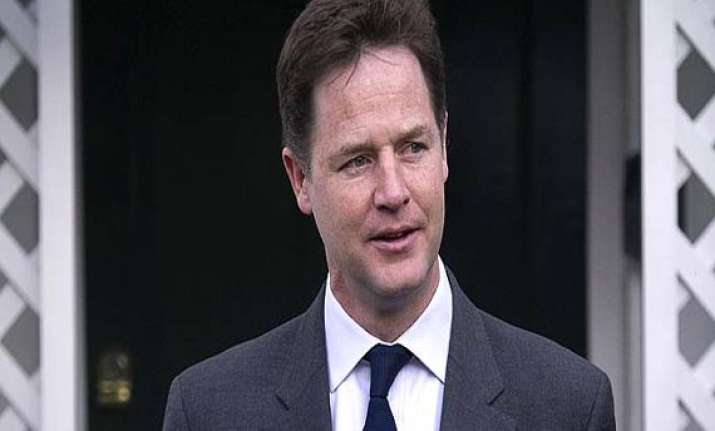 London: Britain's Deputy Prime Minister Nick Clegg will lead a large business delegation on a three-city tour of India next month, focusing on aerospace, retail and education sectors.
The Liberal Democrat leader and coalition partner in the UK government said he will lead the large business delegation to Delhi, Mumbai and Bangalore.
"It will be the first and the largest delegation of its kind since Prime Minister (Narendra) Modi was elected in that extraordinary democratic extravaganza...the greatest act of democratic volition that the world knows," Clegg said while addressing a gathering of politicians and business leaders at a special reception hosted at Whitehall in London.
His remarks were made in the lead up to his India visit around the end of August. The exact dates for the visit are not yet known.
"I am keen to create a delegation that focuses on some key sectors of aerospace, retail and education. It's an invidious choice but I think it is best that these kind of ventures focus on specific sectors to build bridgeheads where they need to be built, to deepen relationships where they need to be deepened, and to find new commercial opportunities where those can be found," Clegg said.
"I come with a message of openness towards new commercial opportunities and forging a strong relationship with the new administration of Prime Minister Modi," he said.
Endorsing Prime Minister Modi's economic agenda, he said: "The visit is well timed because Prime Minister Modi has been so clear and out-spoken in his view that he wants to get the wheels of the Indian economy moving more rapidly, he wants to liberalise those parts of the Indian economy that need further liberalisation, he wants to build on the major trade relations that India has with economies around the world, not least that of the United Kingdom."
Clegg said he was keen on reaching out to the Indian government and seek out new opportunities to deepen, widen and enrich the already very strong commercial relationship that exists between our two countries.