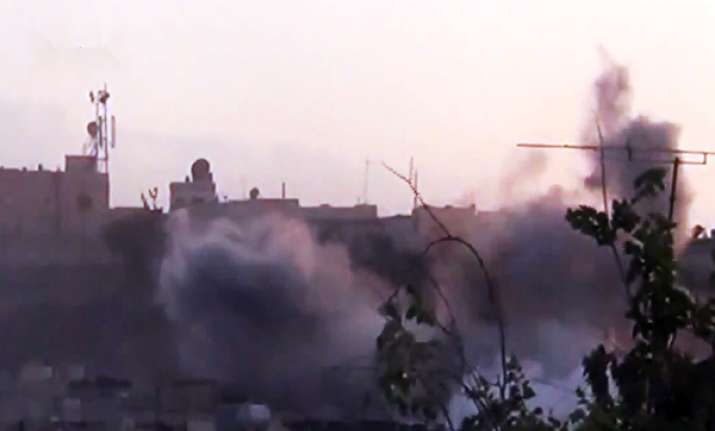 Damascus (Syria), Jun 27: Gunmen raided the headquarters of a pro-government Syrian TV station early Wednesday, demolishing the building and killing three employees, the state media reported. Officials denounced what they called a rebel "massacre against the freedom of the press."
SANA added that the attack on Ikhbariya TV occurred in the town of Drousha, about 20 kilometers (14 miles) south of the capital Damascus. Hours after the attack, the station was still on the air broadcasting its programs.
Ikhbariya is privately-owned but strongly supports President Bashar Assad's regime. Pro-government journalists have been targeted on several previous occasions during the 15-month uprising against President Bashar Assad's regime, although such incidents are comparatively rare.
Earlier this month, two Ikhbariya employees were shot and seriously wounded by gunmen in the northwestern town of Haffa while covering clashes between government troops and insurgents.
Rebels deny they target the media. The Britain-based Syrian Observatory for Human Rights confirmed the raid and the deaths of several employees, but had no other information.
Information Minister Omran al-Zoebi told reporters outside the station that gunmen stormed the compound, placed explosives and then detonated them.
"What happened today is a massacre, a massacre against the freedom of the press," al-Zoebi said in comments broadcast on state-run Syrian TV. "They carried out a terrifying massacre by executing the employees."
An employee at the station said several other employees were wounded in the attack and other guards were kidnapped when the gunmen attacked just before 4 a.m. local time.
The employee, who did not give his name for fear of repercussions, said the gunmen drove him about 200 meters (yards) away, and then he heard the explosion of the station being demolished. "I was terrified when they blindfolded me and took me away," the man said by telephone.
State-run Syrian TV showed a demolished structure without a ceiling, saying it was the station's main studio. It also showed what it said were tapes on fire amid piles of debris.