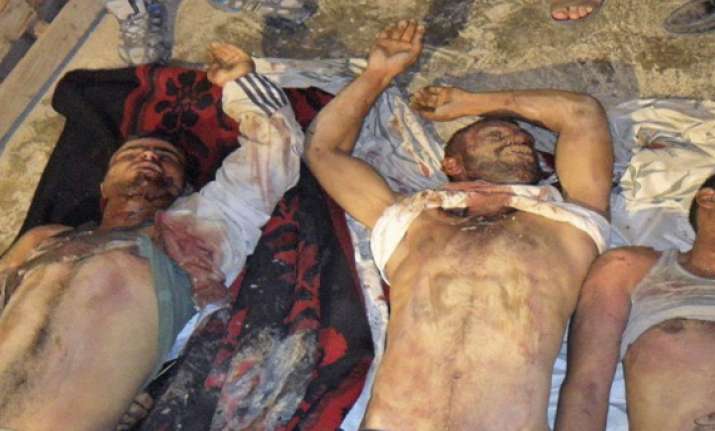 Beirut, Jun 18: Syrian forces pounded Homs today as they pressed their campaign against rebel strongholds in the city, while 34 people were killed across the strife-torn country, a watchdog said.
Today's casualties come a day after 67 people were killed nationwide, including 15 in Homs province, the Syrian Observatory for Human Rights said.
"Shelling and shooting renewed in Homs city, with explosions heard in the Khaldiyeh neighbourhood," the Britain-based monitoring group said.
"Regime forces trying to enter Khaldiyeh and other neighbourhoods are facing fierce resistance from rebel fighters," it added.
Four rebels, including a dissident sergeant, were killed in Homs province by regime forces in the town of Qusayr near the Lebanon-Syria border, and a civilian died in shelling in the town of Rastan, the Observatory said.  
And in Deir Ezzor, six people, including two rebel commanders, were killed in an explosion in Mohassan town.  Clashes and shelling continued through the night in several areas of Damascus province, including the towns of Douma and Qoudsaya, which have been pounded by regime forces for the past five days.
Six people—including two children—were killed in Douma, the Observatory said.
The Local Coordination Committees (LCC), grouping opposition activists on the ground, said Qoudsaya was shelled heavily, and that snipers were firing at anything that moved.  Fares Mohamed, an LCC member in Zabadani northwest of Damascus, told AFP by email that Syrian forces had "imposed a suffocating blockade" around Qoudsaya and a nearby town.