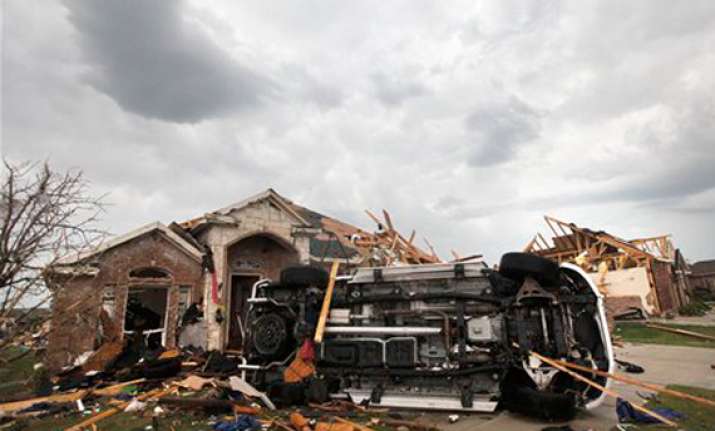 Dallas, Texas, Apr 4: Two tornadoes ripped  through the Dallas-Fort Worth metropolitan area in Texas on Tuesday,  damaging buildings, tossing tractor trailer trucks into the air and grounding planes in the region.
There were no reports of deaths or serious injuries, according to police, although the storm was still active.
One tornado tossed around trucks like toys in the Flying J Truck Plaza in Dallas, said truck driver Michael Glennon, who caught the destruction on his video camera as debris swirled through the air.
"The second trailer is ripped to pieces and thrown 50 to 100 feet into the air," he told Reuters.
National Weather Service meteorologist Amber Elliott confirmed that two separate tornadoes had touched down, one in Arlington, Texas and another in Dallas. Nine separate tornado warnings have been issued by the weather service for the Dallas area so far on Tuesday, she said.
Hail ranging from pea-sized to as large as baseballs pounded Dallas and Fort Worth, the nation's fourth-most-populous metropolitan area with 6.3 million people.
"A house completely demolished. Gas leak in the area," said one comment broadcast on the suburban Arlington, Texas, police scanner, passed along by weather forecaster AccuWeather.
"Motor home blown sideways blocking the street. There is a person stuck inside," another scanner broadcast said.
During the storm all planes were grounded at Dallas-Fort Worth International airport, the eighth busiest in the world, because of reports of storms and tornadoes, American Airlines spokesman Tim Smith said. The airport had reopened by late afternoon.
American canceled all 230 departures from its hub there on Tuesday, and a like number of inbound flights.
Dallas-Fort Worth airport spokesman David Magana said officials ordered passengers away from windows and directed them into stairwells and restrooms.
More than 110 aircraft sustained damage from hail, 400 departures were canceled and 40 incoming flights were diverted, the airport said in a statement.
Amethyst Cirmo, a spokeswoman for the city of Kennedale, west of Arlington, Texas said there was at least moderate damage to 40-50 homes there and some businesses were damaged as well. She said a tornado hit the city of 7,000 people, some power lines were down and a water main had broken, but was repaired.
"We have had some pretty severe damage, but we're doing OK," she said.
WFAA television in Dallas aired footage showing residents in one hard-hit neighborhood frantically directing a policeman, who appeared to be searching for people trapped by the storm.