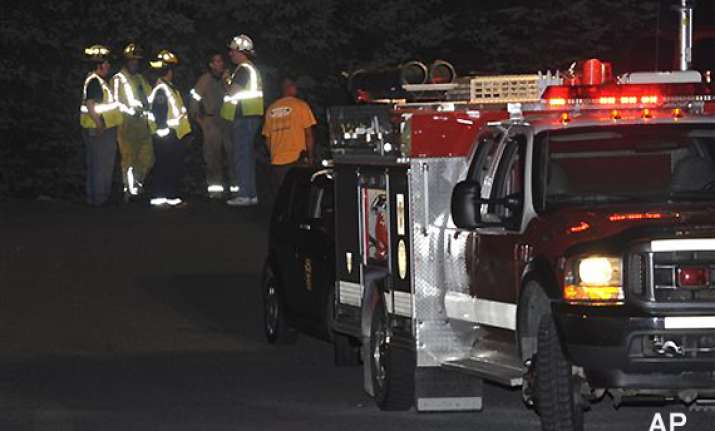 New York, Aug 6: A gunman blasted shots through the wall of a municipal building during a meeting in a northeastern Pennsylvania town on Monday and then barged into the meeting room and continued firing, killing three people, before he was tackled by a local official and shot with his own gun, a witness said.
The shooting rampage, which also wounded some people, happened shortly before 7:30 pm during Ross Township's monthly meeting, Monroe County emergency management director Guy Miller said. The gunman, who appeared to be "shooting randomly," was captured and was in state police custody at a hospital, which was placed on lockdown, he said.
State police in Lehighton confirmed the gunman had been captured but didn't immediately have details on the arrest.
The Pocono Record said one of its reporters was in the township building and a gunman armed with a pistol with a scope shot through a wall into the meeting, in a rural area of northeastern Pennsylvania about 85 miles (137 kilometers) north of Philadelphia.
The reporter, Chris Reber, told the newspaper that all he saw was holes go through the wall, with smoke and plaster blowing out. He said he heard automatic gunfire.
"I ran out after the first round of shooting. I dropped to the floor. That's what everyone did. ... Then it stopped and I crawled out the side door," Reber told the newspaper, which posted his account online. "I was the only person who crawled out. Everyone got behind a table. Some of the supervisors were over on the side throwing up."
Reber said a woman opened a door to the meeting room "and he (the shooter) was standing there. A man pushed her aside and was shot. People were shot inside the room."
The shooter returned to his car and came back inside with another weapon when a local official at the meeting grabbed him, Reber said.
"(West End Open Space Commission executive director) Bernie Kozen was there tending to the man and he (the shooter) didn't see them," Reber said. "Bernie bearhugged him and took him down. He shot (the shooter) with his own gun."
Ross Township has about 5,500 residents. According to its website, the board of supervisors meets at 7 pm on the first Monday of each month.