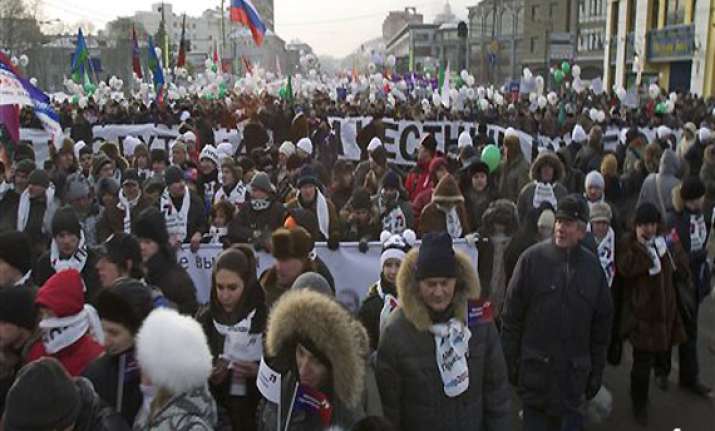 Moscow, Feb 4: Tens of thousands of Russians braved biting frosts on Saturday to stage rival rallies in Moscow for and against Vladimir Putin's return as President in next month's elections, reports The Hindu

The pro-Putin rally at Poklonnaya Gora WW2 memorial was held under the slogans "No to Orange Revolution" and "Putin Is Our President", while the main slogan at the opposition rally was "Not a Single Vote for Putin".

Putin supporters were bussed to the pro-government rally from other cities and many state employees complained that they had been ordered to participate or face sanctions in what appeared to be an attempt to outnumber the opposition rally.

Police said close to 140,000 took part in the pro-Putin rally, whereas the opposition gathered less than 40,000. However, media estimated about 100,000 turned out for the anti-Putin rally.

It was the third mass anti-government rally in Moscow since December. While the first rally was in protest against rigged parliamentary elections, the subsequent rallies were patently anti-Putin.

Organisers of the anti-government rally said they were surprised by the large turnout, given severe cold weather. It was minus 20 Celsius in Moscow on Saturday.

One of the speakers at the opposition rally tore up a big portrait of Putin saying he was a "thief and swindler".

A resolution adopted at the rally called on Russians not to vote for Putin.

The rally also demanded a sweeping overhaul of Russia's political system, the cancellation of the December parliamentary election and the sacking of the chief election commissioner.

The pro-Putin rally was dominated by extremely aggressive attacks on the opposition. Speakers accused their opponents of plans to stage an "orange revolution" and destroy Russia at the behest of the United States.

"We say no to the destruction of Russia. We say no to Orange arrogance. We say no to the American government…let's take out the Orange trash," said political analyst Sergei Kurginyan, who helped organise the pro-Putin rally. Rival rallies were held in many other cities of Russia, and in provinces pro-Putin rallies were far more massive.