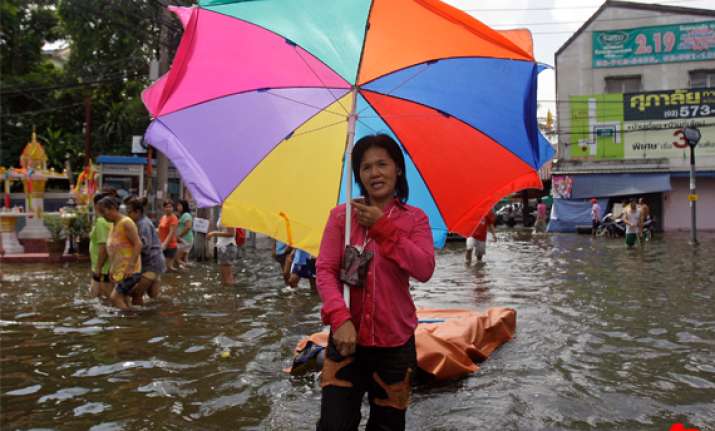 Bangkok, Oct 23: The threat that floodwaters will inundate Thailand's capital could ease by the beginning of next month as record-high levels in the river carrying torrents of water downstream from the country's north begin to decline, authorities said Sunday.

The Flood Relief Operations Command made the comments just a day after reports that Bangkok's main Chao Phraya river was overflowing its banks deepened concerns that the city would be inundated. The report said the river was at its highest levels in seven years.

The command's chief, Justice Minister Pracha Promnok, said in a televised press conference Sunday that people should not be too concerned about the river's spillover because it could be drained off. He also said water in Klong Prapa, a major canal that had been overflowing, was receding, and that plans to drain water to the east and west were working well.

Floodwaters that have spilled onto highways north of the capital, including near Bangkok's second airport in the Don Muang district, came from rising groundwater that will quickly recede, he said.

Off the highways, however, the situation remained dire. Associated Press reporters found people scrambling for safety outside a hospital in northern Rangsit district, where the water was waist-deep.

The flood relief agency said "people should adjust their lifestyles in accordance with the situation" and check all information because rumors have been quick to circulate. Prime Minister Yingluck Shinawatra said Saturday that the waters may take up to six weeks to recede to manageable proportions.

The death toll from the flooding, which began in August in northern Thailand before moving south, has reached 356, while the economic costs are estimated to be as high as $6 billion and still counting.

Residents of Bangkok and its suburbs have settled into a daily routine of waiting and worrying. Advice from the authorities has generally been vague or sometimes overly detailed, giving little idea of the urgency of evacuation, so many people have decided to hunker down in their homes and hope for the best.

Many are hoarding supplies for the aquatic siege, and supermarket shelves have been emptying faster than they can be restocked. Bottled water, batteries and canned food were among the first items to go.

At a supermarket in central Bangkok's business district—which is not under immediate threat—sandbags were lined up at both entrances Sunday, forcing shoppers to step over to go inside. Many of the shelves were bare, with the handful of shoppers inside grabbing the few snacks that were left. Cat food and toilet paper were gone.

While larger stores in Bangkok have kept their prices fixed, in the flooded zones north of the city, smaller merchants were raising theirs. A Rangsit resident, Taweetit Hongsang, complained that the price of a papaya, 10 baht (33 cents) a week ago, had shot up to 30 baht ($1).

The front lines in the battle against the flood have been shifting every day, but always drawing closer to the capital. The latest red zone is the Don Muang area in northern Bangkok, where the city's second and older airport—now serving as an anti-flood headquarters and evacuation center—is located.

Other spots of concern in Bangkok are in the west, where several thousand people living along the Chao Phraya river have been advised to move, as high tides expected late Sunday could cause the river to overflow its banks in some areas, and in the east, where barriers were being erected to protect an industrial estate.

At least five major industrial estates north of Bangkok have been forced to suspend operations, contributing to an estimated 700,000 people put out of work by the flooding. Among those affected are Japanese carmakers Toyota and Honda, which have halted major assembly operations. The electronics industry has also suffered, including computer hard drive maker Western Digital, which has two major production facilities in the flooded zone.

Some flooding on Bangkok's outskirts was expected after Yingluck ordered floodgates opened Thursday in a risky move to drain the dangerous runoff through urban canals and into the sea. Nobody knows with any certainty to what extent the city will flood.

In a weekly radio address Saturday, Yingluck said that "during the next four to six weeks, the water will recede."

In the meantime, the government will step up aid to those whose lives have been disrupted, including 113,000 people living in temporary shelters after being forced to abandon submerged homes, she said.

The flooding is the worst to hit Thailand since 1942, and the crisis is proving a major test for Yingluck's nascent government, which took power in July after heated elections and has come under fire for not acting quickly or decisively enough to prevent major towns north of the capital from being ravaged by floodwaters.