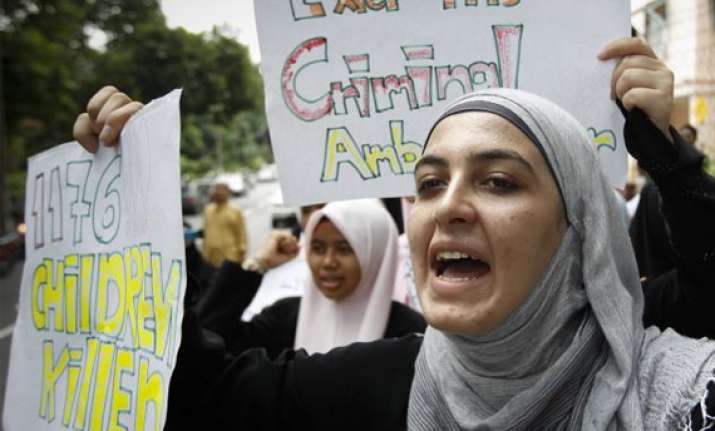 Beirut, Jun 8: Syrian troops today shelled a rebel-held neighbourhood in the flashpoint central city of Homs as President Bashar Assad's troops appeared to be readying to storm the area that has been out of government control for months, activists said.
The Britain-based Syrian Observatory for Human Rights and the Local Coordination Committees had no immediate word on casualties from the shelling of Hom's Khaldiyeh neighbourhood.  Amateur videos posted online showed a small white plane, apparently a drone, flying over Homs.
Homs has been one of the hardest hit regions in Syria since the uprising against Assad's regime began in March last year. The UN said several weeks ago that more than 9,000 people have been killed since the crisis began while activists put the number of dead at about 13,000.
Today's violence came two days after reports of mass killing in the nearby province of Hama where about 80 people, including women and children, were shot or stabbed. UN observers came under fire yesterday as they tried to reach the site in Mazraat al-Qubair, a small farming community of 160 people, mostly Bedouins.
In Geneva, International Committee of the Red Cross spokesman Hicham Hassan told reporters today that the humanitarian situation in Syria was worsening.  "Currently the situation is extremely tense, not only in Houla, not only in Hama, but in many, many places around the country," he said referring to the string of villages known as Houla, where more than 100 people were massacred last month.  
The Opposition and the regime blamed each other for the Houla massacre.
Hassan cited the countryside of the northern city of Idlib, suburbs of the capital Damascus, the eastern province of Deir el-Zour and the coastal region of Latakia as those targeted in the latest attacks.